Journalist who reported on Manus detained in PNG
An Australian journalist who was denied entry into Papua New Guinea (PNG) believes he has been blacklisted from the country because he reported on conditions at the Manus Island detention center.
Photojournalist Matthew Abbott was on Friday detained by immigration officials at Port Moresby airport after getting off a flight from Brisbane.
Abbott was attempting to apply for a tourist visa and planned to travel on to Manus Island to report on conditions at the now-decommissioned center, where about 600 men have been without power, water and basic services for five days.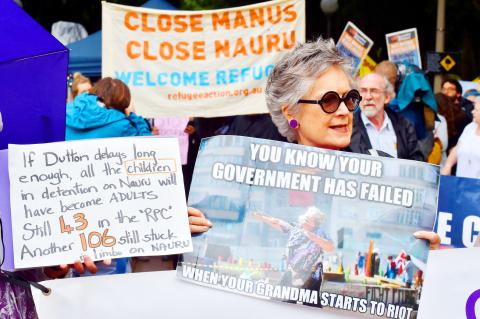 Protesters hold a rally in Sydney yesterday calling on the Australian government to end the refugee crisis on Manus Island.
Photo: AFP
He was acting as an independent freelancer and was not on commission from any publication.
"While I was waiting in line for a visa on arrival, I handed over my passport to the immigration officer," Abbott said. "She looked confusedly at her screen and asked if I was the same Matthew Abbott that had been involved with publishing disruptive material from Manus Island."
Abbott said he was told to get his bags and wait to speak to a senior official.
"It was clear that I was on a list and there was no chance I was getting into the country," he said.
Abbott said he asked if he had been denied entry on the orders of the Australian government and the officials did not respond. He said they treated him with respect and courtesy.
"To be told you can't even access the country on the orders of your own country is pretty disappointing," he said. "I know some of the guys who are there. Someone needs to be there to be covering this."
The "disruptive material" is believed to refer to an incident that occurred at the detention center in July, when Abbott photographed the aftermath of an attack on two Afghan refugees.
Officials at the camp attempted to delete the photographs from his camera, scanned his passport and warned him not to publish them.
"When it was clear last time that they could not get the photos back off me, they said to me: 'If you publish these photographs you are never going to come back here,'" Abbott said. "There's a total double standard being applied ... journalists that are doing positive work and non-critical work are being allowed in whereas people who are doing critical work are stopped."
Media, Entertainment and Arts Alliance chief executive Paul Murphy said denying independent journalists access to Manus Island was an affront to press freedom and accused the Australian government of trying to dictate the nature of the coverage on Manus.
"These things are being done in our name and as citizens we have a right to independent scrutiny of what's happening there," Murphy said.
The suggestion that Abbott had been blacklisted because his work was critical of the detention center regime was particularly concerning, he added.
"Any evidence of government control and intervention in determining who gets to report, what can be reported and when it's reported is absolutely repugnant," he said. "It's not something you would expect to see in a liberal democracy."
Other Australian journalists have managed to gain access to the center, including News Corp's Rory Callinan and Brian Cassey.
A Department of Immigration and Border Protection spokesman said that entry to PNG was a matter for that nation's authorities.
Meanwhile, Iranian journalist Behrouz Boochani has reported that the navy and PNG police are stopping food from being delivered to the regional processing center.
He says they are telling the detainees that if they want food, they will need to relocate to the alternative accommodation centers.
Boochani said a boat driver who attempted to deliver food on Friday was arrested.
Detainees have resisted moving to the accommodation centers, one of which is reportedly incomplete, because of safety concerns.
Comments will be moderated. Keep comments relevant to the article. Remarks containing abusive and obscene language, personal attacks of any kind or promotion will be removed and the user banned. Final decision will be at the discretion of the Taipei Times.