Rajoy hopes intervention in Catalonia will be brief
MADRID TRIP? Catalan President Carles Puigdemont could travel to the Spanish capital today to try to stop the government imposing direct control on his region
The Spanish government's plans to take unprecedented control of Catalonia's key affairs and halt that region's push for independence are "exceptional," Spanish Prime Minister Mariano Rajoy said yesterday, adding that he hoped they would not last long.
Rajoy told the Spanish parliament that the application of the Spanish constitution's Article 155 was the "only possible" response to restore the region's legality, which he said has been liquidated by Catalan President Carles Puigdemont's push to secede.
Rajoy said he hopes the measures planned, including the sacking of Puigdemont's government and the curtailment of the Catalan parliament's powers, would be brief.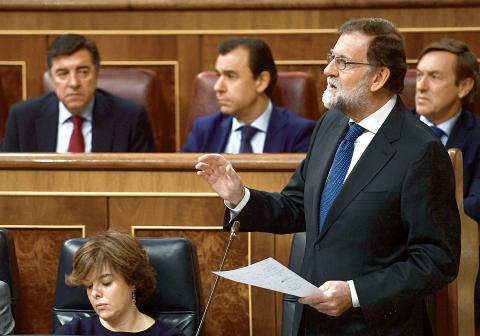 Spanish Prime Minister Mariano Rajoy yesterday speaks during a session of the lower house of parliament in Madrid.
Photo: AFP
He said they should end with regional elections that he hopes could be held as soon as possible, but only once law and order is restored.
Spain's Senate is expected to approve the measures tomorrow.
Rajoy said the aim of Article 155 is not to suspend Catalonia's self-government, but "to restore legality, boost the social coexistence that has been broken in Catalonia and tackle the economic consequences that its decisions are provoking."
The uncertainty over Catalonia's future could have an economic impact. Credit ratings agency DBRS yesterday said that the situation is hurting the region's economy and could become a drag on Spain's economy.
The political turmoil brought by Catalonia's standoff with the national government "is discouraging investment and tourism in the region," DBRS said in a statement.
With Catalonia representing about one-fifth of Spain's annual GDP, any slowdown in the region would affect the national economy.
Meanwhile, Catalan President Carles Puigdemont is likely to go to Madrid today to explain his position on independence and try to stop the national government imposing direct control on the region.
The timing of Puigdemont's appearance before the Spanish Senate suggests he is now unlikely to formally declare independence or call a snap regional election today, as many analysts had expected.
He could still do this tomorrow before the Senate strips him of his powers and imposes direct rule from Madrid.
An appearance at a Senate debate could pit Puigdemont face to face with Rajoy.
"President Puigdemont is willing to attend the Senate to explain the allegations, explain his political position, and explain how we have arrived here," a lawmaker for PDCat (Catalan Democratic Party) said yesterday.
Today would be the most convenient day, he said.
Several members of the Catalan government told Puigdemont on Tuesday that they want elections to avoid a power takeover by Madrid, a source close to him who refused to be named said yesterday.
Puigdemont's ruling PDCat coalition is hugely disparate, with the far-left Popular Unity Candidacy and left-wing Republican Left of Catalonia that prop it up gunning for him to declare independence.
The Catalan daily La Vanguardia said the meeting yielded "intense debate" and went on well into the night, with no decision reached.
More street protests were planned for yesterday in Barcelona.
Comments will be moderated. Keep comments relevant to the article. Remarks containing abusive and obscene language, personal attacks of any kind or promotion will be removed and the user banned. Final decision will be at the discretion of the Taipei Times.