Tackling Challenges: Blind piano maestro in Japan learned to play classics by ear
Blind since birth, virtuoso Japanese pianist Nobuyuki Tsujii puts his global success down to a wide range of experiences outside music — and listening to how the conductor breathes.
"I love sport, I love swimming, skiing," the 29-year-old said in an interview. "The more I experience, the more positive things it brings me as a musician."
Tsujii — or "Nobu" as he is known — has risen to become a star of the international classical music scene, playing in more than 160 concerts around the world in locations such as London's Royal Albert Hall and Carnegie Hall in New York and becoming a joint winner of the Van Cliburn gold medal.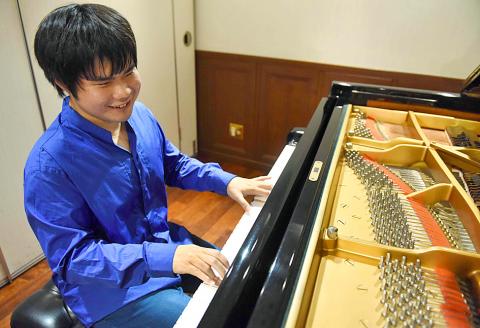 Japanese pianist Nobuyuki Tsujii, who has been blind since birth, plays the piano during an interview at a studio in Tokyo on Sept. 28.
Photo: AFP
He has played with the London Philharmonic and will be giving his first major recital in France later this month, while an elegy he wrote for the victims of the 2011 earthquake and tsunami in Japan has gotten 13 million views on YouTube.
Born in Tokyo, Tsujii's love of music started at the age of eight months, when his mother played him a CD by Polish composer Frederic Chopin.
"I wiggled my legs in time to the music," he said.
He began tinkling on a toy piano at the age of two and real music lessons started at four. He learned to read sheet music via Braille, but many compositions were not accessible via this method so he learned to play by ear, from memory.
"It is good at the beginning to be faithful and precise but afterwards I tried to interpret [the music] and that is very important, difficult and deep," he said.
A very rare example of a blind pianist at such a high level, Tsujii said he is inspired by the sensations provided by nature and other art forms.
"From a very young age, my mother gave me experiences outside of music. She would take me to museums and describe the drawings or paintings she liked. She would take me to a firework display and describe the colors," he said.
Tsujii's main musical influence remains the "delicate, elegant, romantic" Chopin, whose patriotism he admires.
He said is he also drawn to Beethoven, Debussy and Ravel.
Comments will be moderated. Keep comments relevant to the article. Remarks containing abusive and obscene language, personal attacks of any kind or promotion will be removed and the user banned. Final decision will be at the discretion of the Taipei Times.