Firefighters make progress against California inferno
A fifth day of desperate firefighting in California wine country brought a glimmer of hope on Friday as crews battling the flames reported their first progress toward containing the massive blazes and hundreds more firefighters poured in to join the effort.
The scale of the disaster also became clearer as authorities said the fires had chased an estimated 90,000 people from their homes and destroyed at least 5,700 homes and businesses.
The death toll rose to 35, making this the deadliest and most destructive series of wildfires in California history.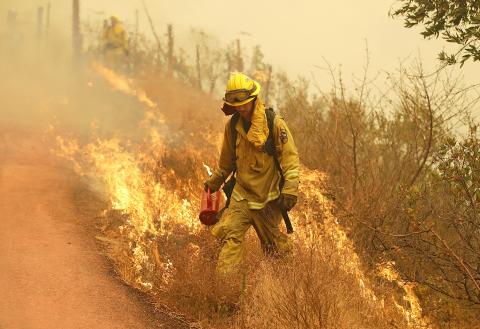 A firefighter walks in front of flames during a backburn operation in Glen Ellen, California, on Friday.
Photo: AP
The deaths were briefly tallied at 36, but authorities said one was double-counted.
In all, 17 large fires still burned across the northern part of the state, with more than 9,000 firefighters attacking the flames using air tankers, helicopters and more than 1,000 fire engines.
"The emergency is not over and we continue to work at it, but we are seeing some great progress," California Emergency Operations Director Mark Ghilarducci said.
Over the past 24 hours, crews arrived from Nevada, Washington, Idaho, Montana, New Mexico, North and South Carolina, Oregon and Arizona. Other teams came from as far away as Canada and Australia.
Since igniting on Sunday last week in spots across eight counties, the blazes have reduced entire neighborhoods to ash and rubble.
The death toll has risen daily as search teams gain access to previously unreachable areas.
Individual fires, including a 1991 blaze in the hills around Oakland, killed more people than any one of the current blazes, but no collection of simultaneous fires in California ever led to so many deaths, authorities said.
People remained on edge, worried about the wind shifting fires in their direction, said Will Deeths, a Sonoma middle-school principal helping to supervise volunteers at Sonoma Valley High School, now an evacuation shelter.
"In the afternoons we start looking up at the flag pole and we start looking to see, is the wind blowing? Is the flag moving?" he said. "It's been really crazy."
Video was released of body camera footage on the first night of the fire, showing an unnamed deputy braving flames and thick smoke to clear out a community already being devoured by the flames.
On Friday dozens of search-and-rescue personnel at a mobile home park in Santa Rosa carried out the grim task Friday of searching for remains.
Fire tore through Santa Rosa early on Monday, leaving only a brief window for residents to flee, and decimated the park, which was known as Journey's End and was home to hundreds of people.
Workers were looking for two missing people found one set of remains, mostly bone fragments, and continued looking for the other, Sonoma County Sergeant Spencer Crum said.
To help in the search, the Alameda County Sheriff's Office near San Francisco sent specialized equipment, including drones with three-dimensional cameras and five dogs trained to sniff out human remains.
Comments will be moderated. Keep comments relevant to the article. Remarks containing abusive and obscene language, personal attacks of any kind or promotion will be removed and the user banned. Final decision will be at the discretion of the Taipei Times.