Junta leader looks like campaigning politician
In his dark suit, Thai Prime Minister Prayuth Chan-ocha cut an incongruous figure guiding a rice tractor across a muddy paddy field in front of cameras and watching villagers.
The junta leader's latest photo opportunity won applause from farmers watching in straw hats and his visit to Suphan Buri on Monday last week brought a call from a local political bigwig for him to stay in power for another decade.
Political activities in Thailand have been suspended since Prayuth's 2014 coup, but Thai politicians are asking whether what looks like campaigning is exactly what it seems.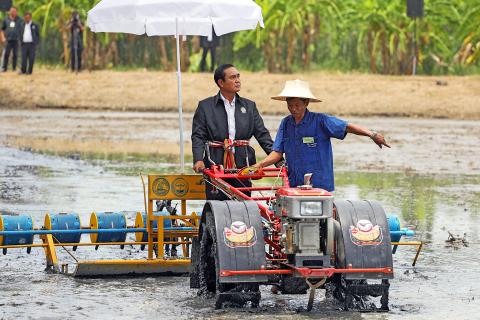 Thai Prime Minister Prayuth Chan-ocha stands on a tractor step at a farming school in Suphan Buri Province on Monday last week.
Photo: Reuters
The trips to the countryside, a new Facebook account and a chorus of political groups offering support are raising suspicions of a plan to keep Prayuth in power even if long-promised elections happen next year.
"It's not beyond expectations that he is out campaigning in the provinces to prepare to become prime minister again," said Chaturon Chaisang, a leader of the Pheu Thai party, which under various names has won every election for a generation.
Since last month, Prayuth has visited six provinces, including places traditionally considered important battlegrounds for elections. Such trips with his Cabinet will now be monthly.
In the previous three years, he had only taken two such trips outside Bangkok.
"I am not here to make people love me, but I want everyone to love the country," Prayuth, 63, told farmers in Suphan Buri, 100km north of Bangkok.
Samruay Tongpratet, a 60-year-old farmer said: "If the prime minister can truly help the poor then he can stay as long as he wants."
Prayuth's office declined to comment on any plan to keep him in power. Politics will not resume until well after the cremation next month of the king Bhumibol Adulyadej, who died in October last year, and the subsequent coronation of his son, King Maha Vajiralongkorn.
In the meantime, Prayuth has the field to himself.
"That's why he needed to hold these mobile Cabinet meetings in the provinces, act more like a politician, hold rallies, and meet the people," said Thitinan Pongsudhirak, director of the Institute of Security and International Studies at Chulalongkorn University, noting the signs that Prayuth wants to stay longer.
Last month, Prayuth set up a Facebook page with pictures of him walking with his arm around a farmer's shoulder and giving alms to monks.
A poll in June showed that 53 percent of Thais would like Prayuth to serve another term.
Although Thailand's economic growth lags other countries in Southeast Asia and dissent is strongly repressed, surveys show that Prayuth's backers welcome the stability since the coup.
Whether that calm survives electioneering is another question after over a decade of turmoil between color-coded factions that Prayuth said he sought to end with his coup.
On one side is the "yellow" Democrat Party, which is popular with middle-class voters and has strong support in Bangkok and parts of the south.
On the other side is the "red" movement of ousted Thai prime minister Thaksin Shinawatra, whose parties appeal to poorer voters, particularly in the northeast.
Thaksin's sister, former Thai prime minister Yingluck Shinawatra, was overthrown by Prayuth in the 2014 coup and last month fled the country ahead of a verdict in a corruption trial — eliminating a charismatic party figurehead who might also have rallied the opposition.
Although he cannot technically stand for election because he would have needed to resign by July, a new constitution drawn up at the junta's behest does offer him a route.
He could be chosen as an "outside prime minister" — foreseen under the constitution if the winning party fails to get enough votes for its candidate in the 500-member lower house of parliament.
In such a case, the upper house would also have a say — its 250 members will be picked by the military. However, Prayuth would still need support from at least half the lower house. Although neither of Thailand's two main political parties has said it would endorse him, smaller players are mobilizing.
Comments will be moderated. Keep comments relevant to the article. Remarks containing abusive and obscene language, personal attacks of any kind or promotion will be removed and the user banned. Final decision will be at the discretion of the Taipei Times.