Panama's ex-president should be extradited: US judge
'GOOD FAITH': There are reasonable grounds to suppose Ricardo Martinelli guilty of all or some of the offenses charged, US Judge Edwin Torres said
Former Panamanian president Ricardo Martinelli should be extradited to his homeland to face charges he illegally orchestrated a campaign funded by public money to spy on political rivals there, a US federal judge in Miami said on Thursday.
US Magistrate Judge Edwin Torres said Panama had established probable cause for all charges it brought against Martinelli and that a show of "good faith" to its government required his surrender.
"There are reasonable grounds to suppose him guilty of all or some of the offenses charged," Torres wrote in a 93-page decision.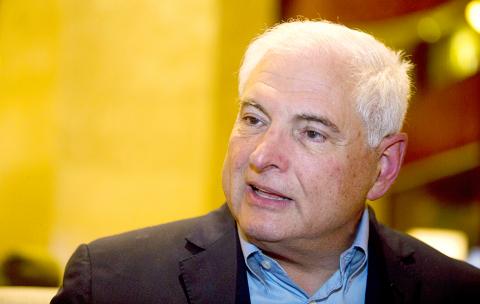 Panamanian former president Ricardo Martinelli answers questions during an interview at a hotel in Guatemala City on Jan. 28, 2015.
Photo: AP
The US Department of State is to decide whether to extradite Martinelli, but in an Aug. 1 court filing said it supported extradition.
It is not clear when a decision might be made.
Martinelli, 65, has denied the charges and plans to appeal the extradition order, his lawyer Marcos Jimenez said in an e-mail.
He is also seeking political asylum.
Officials with the Panamanian government did not immediately respond to requests for comment.
Martinelli was Panama's president from 2009 to 2014.
Prosecutors accused him of diverting more than US$13.4 million of public funds, intended to help underprivileged people, to fund a surveillance system to listen in on more than 150 rivals.
Martinelli, a wealthy businessman through his ownership of supermarkets, was arrested in June by US authorities in Coral Gables, Florida, and later held without bail.
He had previously left Panama as that country was preparing to charge him.
Panamanian President Juan Carlos Varela had once been Martinelli's vice president, but they later became rivals.
Martinelli's lawyers have called their client's prosecution politically motivated.
They had sparred with US prosecutors over whether an extradition treaty updated in July 2014 between the US and Panama covered Martinelli's alleged cybercrimes, which predated the update.
Torres said it did, and that Martinelli's having "at best" suggested the issue was ambiguous was "not enough to conclude that his interpretation ultimately prevails and bars his extradition."
Comments will be moderated. Keep comments relevant to the article. Remarks containing abusive and obscene language, personal attacks of any kind or promotion will be removed and the user banned. Final decision will be at the discretion of the Taipei Times.