Indian project seeks to mitigate floods, droughts
RIVER LINKING: The plan also calls for a dam, but environmentalists worry that its construction would affect the habitats of tigers and vultures in the region
India is to begin work in about a month on an US$87 billion scheme to connect some of the nation's biggest rivers, Indian government sources said, as Indian Prime Minister Narendra Modi bets on the ambitious project to combat floods and droughts.
The mammoth plan entails linking nearly 60 rivers, including the Ganges, which the government hopes will cut farmers' dependence on fickle monsoon rains by bringing millions of hectares of cultivatable land under irrigation.
In recent weeks, some parts of India, Bangladesh and Nepal have been hit by the worst monsoon floods in years, following two years of poor rainfall.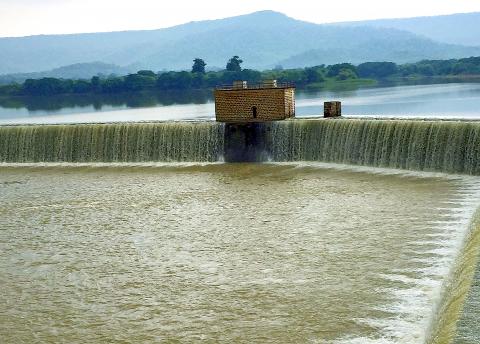 Water flows over the Gangau Dam in Daudhan Village in India on Aug. 18.
Photo: Reuters
Modi has pushed through clearances for the first phase of the project — which would also generate thousands of megawatts of electricity — the sources said, despite opposition from environmentalists, tiger lovers and a former royal family.
That is to involve construction of a dam on the Ken River, also known as the Karnavati, in north-central India and a 22km canal connecting it to the shallow Betwa River.
Both rivers flow through vast swathes of Uttar Pradesh and Madhya Pradesh, ruled by Modi's Bharatiya Janata Party (BJP), and the prime minister hopes the Ken-Betwa scheme will set a template for other proposed river-linking projects, one of the sources said.
"We have got clearances in record time, with the last round of clearances coming in only this year," Indian Junior Minister of State for Water Resources, River Development and Ganga Rejuvenation Sanjeev Balyan told reporters. "The Ken-Betwa interlinking tops the priority list of the government."
Government officials say diverting water from bounteous rivers such as the Ganges, Godavari and Mahanadi to sparse waterways by building a clutch of dams and a network of canals is the only solution to floods and droughts.
However, some experts say India would be better off investing in water conservation and better farm practices.
Environmentalists and wildlife enthusiasts have also said there would be ecological consequences.
The 425km Ken flows through a tiger reserve nestled in a verdant valley. The government plans to clear 6.5 percent of the forest reserve to build the dam, relocating nearly 2,000 families from 10 remote villages.
About half a dozen permits for clearances have been obtained for the scheme to link the Ken and Betwa, according to two sources and documents seen by reporters.
Modi's Cabinet is likely to give its final go-ahead for the project within a couple of weeks, sources say, after which he will flag off construction at the site about 805km from New Delhi, which is marked only by rows of red concrete slabs on the ground.
The government is also finishing paperwork on projects in western India linking the Par-Tapi River with the Narmada and the Daman Ganga with the Pinjal.
The projects involve Modi's home state of Gujarat and Maharashtra, which includes Mumbai.
The river-linking projects was first proposed in 2002 by the last BJP-led government. Work stalled because state governments sparred over water sharing contracts and clearances got stuck in India's bureaucracy.
This time, officials hope starting with projects that are all in BJP-ruled states will smooth negotiations.
Modi's government is touting the linking of rivers as a panacea to the floods and droughts that plague India every year, killing hundreds of people and withering crops.
Large areas of eastern and north-eastern India are reeling under floods in which hundreds have died, while torrential rain also brought the commercial capital of Mumbai to a standstill this week. The southern state of Tamil Nadu, in contrast, recently rationed drinking water due to drought.
However, not everyone is convinced the projects should be the priority.
"Theoretically we can't find fault with the plan, but spending billions of dollars in a country which wastes more water than it produces, it makes more sense to first focus on water conservation," said Ashok Gulati, a farm economist who has advised governments.
India, which has 18 percent of the world's population, but only 4 percent of the usable water resources, gives incentives to produce and export thirsty crops such as rice and sugar cane.
The proposed 77m-high, 2km-long dam on the Ken River is to submerge 9,000 hectares of mostly forest land. A big portion is to come from the Panna Tiger Reserve, near the UNESCO world heritage site of Khajuraho Temple in Madhya Pradesh.
The forest reserve, a major tourist attraction, is home to 30-35 tigers and nearly 500 vultures.
"Building a dam in a reserve forest is an invitation to a grave environmental disaster," said Shyamendra Singh, the scion of the Maharajas who ruled a princely state near Panna during the British colonial era. "It will lead to floods in the forest and drought in the downstream."
Authorities say they have planned for the safety of tigers and vultures.
Comments will be moderated. Keep comments relevant to the article. Remarks containing abusive and obscene language, personal attacks of any kind or promotion will be removed and the user banned. Final decision will be at the discretion of the Taipei Times.