Man arrested for fire near hard-hit California town
Authorities on Wednesday arrested a man suspected of starting an illegal campfire believed to have ignited a growing northern California blaze that destroyed 10 homes, damaged five others and threatened hundreds more.
The wildfire was sparked on Tuesday near the town of Oroville, a region already hard-hit by fire and a massive evacuation earlier this year caused by damage to sections of the US' tallest dam.
It is one of many wildfires burning across the western US, including blazes in and around California's Yosemite National Park that have closed a popular road into the park, shuttered the iconic Wawona Hotel and evacuated nearby towns. About 58 homes near the park were destroyed earlier this summer.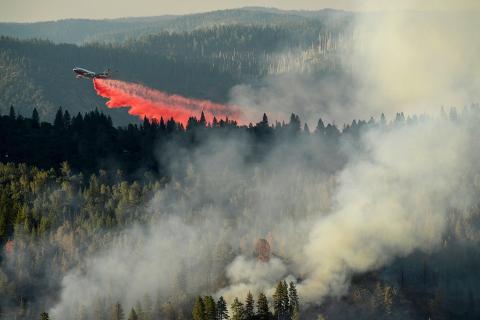 A 747 SuperTanker drops retardant on Wednesday while battling a wildfire east of Oroville, California.
Photo: Reuters
The fire near Oroville, about 113km north of Sacramento, had consumed nearly 13km2 and was 10 percent contained, the California Department of Forestry and Fire Protection (Cal Fire) said.
Three more communities were evacuated and firefighters struggled to contain the fast-burning flames on Wednesday as temperatures surged above 37°C.
The western US is struggling with heat that is making the battle against wildfires difficult.
Record rains earlier this year that ended California's historic drought have produced more vegetation, which is also fueling the fires.
"Taken all that together, it's real tough out there," Cal Fire spokesman Jeremy Rahn said.
Cal Fire investigators arrested John Ballenger, 29, of Oroville, on suspicion of starting an illegal campfire. He was taken to jail and records do not show whether he is represented by an attorney.
"All campfires pose a risk of escaping," Cal Fire spokesman Darren Read said. "A campfire should never be left unattended and must be extinguished completely before everyone leaves."
The wildfire is about 32km east of Oroville Dam.
Tens of thousands of residents downstream fled in February when the dam's spillways crumbled and led to fears of catastrophic flooding. Waters receded before they breached the dam and water officials said repairs are 20 percent complete.
Months later, a wildfire about 24km south of the dam destroyed 41 homes.
Meanwhile, about two dozen fires are burning in Oregon, leading to more than 4,500 evacuations.
The area burning in the state is about equivalent to half of Rhode Island, and the largest fire is only partially contained after lightning ignited it in mid-July.
Smoke from all the blazes has converged on Portland and has obscured the iconic view of Mount Hood and triggered air quality warnings.
In Montana, authorities have ordered about 1,000 homes and businesses to evacuate near Seeley Lake, a popular destination for boaters, anglers and hikers, about 161km northwest of Helena.
In Glacier National Park, smoke from wildfires has led officials to close the historic Lake McDonald Lodge for the season, while earlier this month, the backcountry Sperry Chalet shut down because of the same fire.
Comments will be moderated. Keep comments relevant to the article. Remarks containing abusive and obscene language, personal attacks of any kind or promotion will be removed and the user banned. Final decision will be at the discretion of the Taipei Times.