Mumbai building collapses, killing 12
MONSOON RAIN: The latest building collapse highlights India's poor construction standards and came after torrential rains that have killed at least 10 in the region
A five-story building in the Indian financial capital of Mumbai collapsed yesterday, killing 12 people and injuring 14 others, after torrential rains lashed the country's west.
Another 25 people were feared trapped in the debris.
Rescue workers, police and residents helped pull 13 people out of the rubble and were looking for those buried in the huge mound of mud, concrete slabs and twisted steel girders.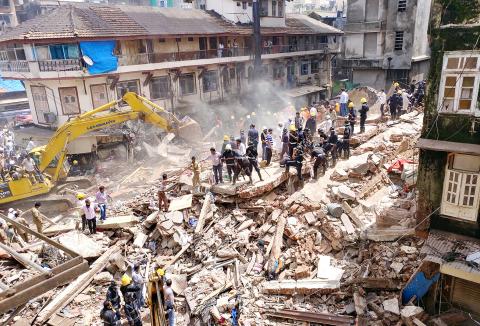 Firefighters and rescue workers search for survivors at the site of a collapsed building in Mumbai, India, yesterday.
Photo: Reuters
The residential building, which gave way at about 8:40am, was in a congested lane of the Bhendi Bazaar area in southern Mumbai.
It was the latest deadly housing collapse to strike the teeming metropolis — shining a spotlight on poor construction standards in the Asian nation — and came after heavy rains and inundations in the city killed 10 people.
Building collapses are common in Mumbai, especially during the monsoon season from late June to September, when heavy rains lash the western Indian city.
Severe downpours began on Tuesday and caused flooding across Mumbai and the neighbouring region of Thane.
The collapse came as officials said the death toll from the floods was expected to rise above 10, despite the waters receding after better weather.
"We are still on the lookout for more missing persons and the number may go up," said Santosh Kadam, spokesman for disaster control in Thane.
Bhendi Bazaar, a scruffy colonial-era market, is one of Mumbai's most historic districts.
It is undergoing a US$600 million redevelopment project that is set to replace hundreds of ramshackle, decades-old low-rise buildings with about a dozen glitzy new tower blocks.
Distraught residents described hearing a loud crash before rushing to the scene of the collapsed structure to try to help.
"There was a huge noise and we all came running," said Naseem Mogradia, who lives two lanes away.
Shahid Khan, 52, said he did not know whether his friend and seven family members who lived on the ground floor were alive or dead.
"I am just trying to help with rescue operations," he said.
Mumbai has been hit by several deadly building collapses in recent years, often caused by shoddy construction, poor quality materials or aging buildings.
Millions are forced to live in cramped, ramshackle properties because of rising real-estate prices and a lack of housing for the poor.
Activists say housing societies, private owners and builders often cut corners to save on costs.
They also claim that corruption plays a part with officials sometimes knowingly certifying unsound buildings in return for money.
"Most of the buildings in Bhendi Bazaar are old and dilapidated. We always live in fear that they will collapse during monsoons," 63-year-old Mohammed Shaikh said.
In July, 17 people — including a three-month-old baby — died when a four-story building gave way in the northern suburb of Ghatkopar.
In 2013, 60 people were killed when a residential block came crashing down in one of Mumbai's worst housing disasters.
Comments will be moderated. Keep comments relevant to the article. Remarks containing abusive and obscene language, personal attacks of any kind or promotion will be removed and the user banned. Final decision will be at the discretion of the Taipei Times.