Two dead in library shooting in New Mexico
A shooting inside a public library that killed two people on Monday and wounded four has deeply shaken an eastern New Mexico community.
The gunman surrendered after the shooting and was taken into custody without incident after police entered the Clovis-Carver Public Library, authorities and elected officials with the city of Clovis said during a news conference.
Warrants for his arrest were being prepared, but it was not immediately clear what charges he would face.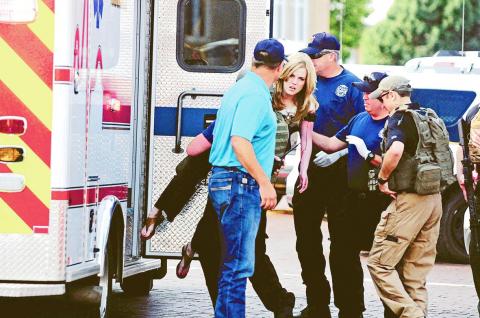 An injured woman is carried to an ambulance in Clovis, New Mexico, on Monday after a shooting inside a public library.
Photo: AP / Tony Bullocks / The Eastern New Mexico News
Clovis Mayor David Lansford said things could have been much worse had it not been for the quick response, training and courage of police. He called the shooting tragic and senseless.
"This is a big blow to our community," he said. "Our community is a community that places a high value on life and the sanctity of life. And each life that lives in this community is precious. So we're all hurting right now as a result of what took place this afternoon."
Clovis, a city of about 40,000, is about 322km east of Albuquerque, near the Texas state line.
The injured included two men and two women, authorities said. Some were taken to a hospital across the state line in Lubbock, Texas. The extent of their injuries was not immediately known.
The names of the victims and the gunman have not been released.
A woman who was in the Clovis-Carver Public Library at the time of the incident said the man told her to run, the Eastern New Mexico News reported on Monday night.
Lisa Baird told the newspaper that she was about 6m from the man as he opened fire. "Run!" he yelled at her. "Why aren't you running? I'm shooting at you! Run!"
Baird talked to the newspaper through Facebook Messenger. She said she was talking with a library patron when she says she heard a "very loud bang."
"My initial thought was why would someone throw a cherry bomb or M80 firecracker into the library? Then I saw a young man aim his hand, which had a handgun in it, to the ground/carpet about 6 feet in front of him and he fired like four or five shots into the carpet," she said.
She dove under a nearby desk "and tried to squish up as small as possible," Baird said.
From there, Baird said she could hear the man moving around the library and firing multiple shots.
"Then I heard his pants 'shooshing' as he approached the end of the reference desk. I heard a sound like a phone or something being put on the reference counter at the end of the desk, about 4 feet from my head," she said.
Then police entered the library and began shouting for the man with the gun to "lay on the ground" repeatedly, Baird said.
Clovis Police Chief Doug Ford says the suspect did not resist after police arrived.
Comments will be moderated. Keep comments relevant to the article. Remarks containing abusive and obscene language, personal attacks of any kind or promotion will be removed and the user banned. Final decision will be at the discretion of the Taipei Times.