North Korea's Kim Jong-un has third child: reports
North Korean leader Kim Jong-un has fathered another child, reports said yesterday, after his wife dropped out of the public eye for several months.
North Korean first lady Ri Sol-ju delivered the couple's third child in February, the Yonhap news agency reported yesterday, citing South Korean lawmakers who were briefed by the South Korean National Intelligence Service.
Ri had disappeared for an extended period last year, raising speculation that she could be pregnant.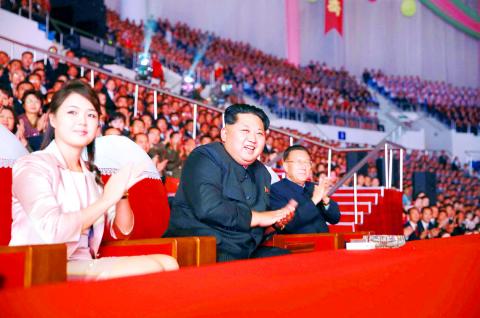 North Korean leader Kim Jong-un, center, and his wife, Ri Sol-ju, left, watch a performance at the Ryugyong Chung Ju-yung gymnasium in Pyongyang in an undated photo released by the Korean Central News Agency (KCNA) on Oct. 19, 2015.
Photo: AFP PHOTO / KCNA
News of the new arrival emerged as North Korea fired a ballistic missile over northern Japan.
According to previous intelligence reports from the South Korean National Intelligence Service, Ri married Kim in 2009 and gave birth to their first child the following year, with their second born in 2013.
Kim is the third generation of his dynasty to rule North Korea, but little has been revealed about the country's first family.
Former US basketball star Dennis Rodman, following his trip to North Korea in 2013, has been the only source of information about the couple's second child — a baby girl named Ju-ae.
Saying that he had held Kim's daughter in his arms, Rodman described the North Korean leader as "a good dad" who has "a good family."
While more of a public personality than his introverted father, former North Korean leader Kim Jong-il, ever was, Kim's own personal details remain little known.
Even his exact birthday and the date of his wedding have not been confirmed.
South Korean intelligence reports have described Ri as coming from an ordinary family, with her father an academic and her mother a doctor.
She visited South Korea in 2005 as a cheerleader for her country's squad in the Asian Athletics Championships.
Comments will be moderated. Keep comments relevant to the article. Remarks containing abusive and obscene language, personal attacks of any kind or promotion will be removed and the user banned. Final decision will be at the discretion of the Taipei Times.