Ex-Thai PM's flight abrupt: aides
Former Thai prime minister Yingluck Shinawatra knelt before a row of saffron-robed Buddhist monks on Wednesday last week as she offered them fruits and sticky rice soaked in coconut milk and longan juice, a specialty from her northern region.
At the auspicious hour of 9am she released fish at the Temple of the Bells near Bangkok's Chaophraya River, a practice Thai Buddhists believe brings good karma.
At that point, aides say they believed she still intended to appear on Friday for sentencing in the criminal negligence case brought by Thailand's junta over a costly rice subsidy scheme. Within about one day, she had left the country.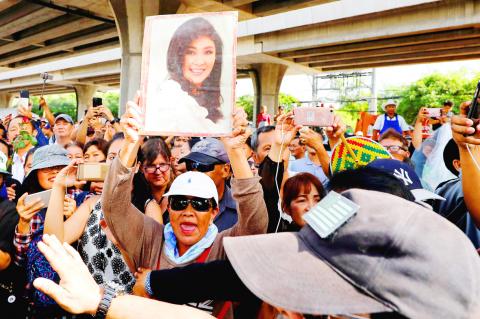 Supporters of ousted former Thai prime minister Yingluck Shinawatra wait for her at the nation's Supreme Court in Bangkok on Friday.
Photo: Reuters
"She chose to leave because she heard from her sources that the court would give her a heavy sentence and would not grant her bail," one source close to Yingluck said. "She's not a last minute person. She always plans things very carefully. This was a last-minute decision."
Yingluck fled with two aides, but left her only son, Supasek Amornchat, 15, behind in Thailand, the source said.
Another aide, who had worked with Yingluck for a decade, said that she was gone by Thursday afternoon.
Yingluck, whose government was ousted in a 2014 coup, went to Dubai, where her brother, former Thai prime minister Thaksin Shinawatra has a home, via Singapore, aides and other sources in her Puea Thai Party told reporters.
Reporters were unable to contact Yingluck. An aide for Thaksin in Dubai said she was not authorized to speak to the media.
Exactly how Yingluck escaped from Thailand remains a mystery.
At 10:55am on Thursday, she posted one last time on Facebook, apologizing to her supporters for being unable to greet them at court because of heightened security, but at the same time implying that she would show up.
Even some of Yingluck's closest aides said they were not aware how she left the country.
Thai National Police Deputy Chief General Srivara Ransibrahmanakul said police intelligence showed Yingluck was at her Bangkok home at least up until 2pm on Wednesday.
It was not clear why the police had information up to that point, but not beyond.
The junta has denied leaving a door open for Yingluck to escape — solving a problem for Thailand's generals concerned that if she was imprisoned she would become a martyr — but both her supporters and enemies have questioned whether she had official help.
Sources in the Puea Thai Party said she fled first to Cambodia — a route often used by Thai opposition figures in the past as the border is porous and it is less than four hours drive from Bangkok.
Thai media have said she took a private jet from Cambodia to Singapore and then on to Dubai.
Cambodian Prime Minister Hun Sen on Sunday denied that Yingluck used Cambodia as part of her escape route.
By 9:40am on Friday morning, the Thai Supreme Court had issued an arrest warrant for Yingluck, saying it did not think Yingluck was ill with an ear problem as her team claimed. She had pleaded not guilty to the charge, which carried a sentence of up to 10 years.
Hours after the verdict against Yingluck had been due, the court sentenced her former commerce minister in a related case to 42 years in prison. He was denied bail pending appeal because it was too late in the day. Seventeen other people were given sentences of between four and 48 years in the case.
Lieutenant General Werachai Indusobhana, commander of the Thai Terrestrial Defense Command, on Monday told reporters that Yingluck's son Supasek showed up for student officer training on Saturday as required for Thai male students of his age.
Comments will be moderated. Keep comments relevant to the article. Remarks containing abusive and obscene language, personal attacks of any kind or promotion will be removed and the user banned. Final decision will be at the discretion of the Taipei Times.