Prince of low-brow comedy Jerry Lewis dies at 91
Jerry Lewis, the high prince of low-brow comedy on stage and in film and a fund-raising powerhouse with his annual Labor Day telethon, died on Sunday at the age of 91, his family said.
He died of natural causes at his home with his family by his side, they said in a statement.
Lewis rose to fame as the goofy foil to suave partner Dean Martin.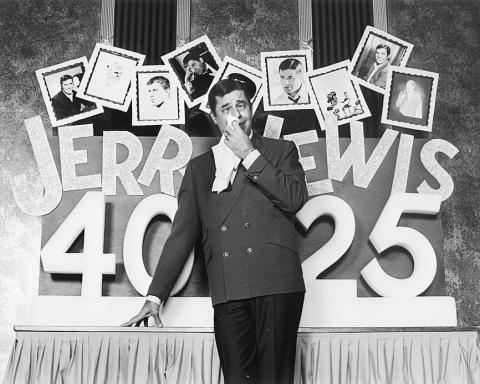 Jerry Lewis fakes tears in front of a "40 years in show business" stage set-up at Caesars Palace in Las Vegas, Nevada, on Jan. 14, 1972.
Photo: Sam Morris, Las Vegas News Bureau via EPA
At home, he was both loved and derided, while in France, he became a comic icon.
He once summed up his career by saying: "I've had great success being a total idiot," and said the key was maintaining a child-like quality.
"I look at the world through a child's eyes because I'm nine," he said in a November 2002 interview. "I stayed that way. I made a career out of it. It's a wonderful place to be."
The son of vaudeville entertainers, Lewis became a star in the early 1950s as Martin's comic sidekick in nightclubs, on television and in 16 movies.
Lewis' movie persona, like the character he created in the act with Martin, varied little from film to film. He was zany and manic, forever squealing, grimacing and flailing his way through situations beyond his control.
He starred in more than 45 films in a career spanning five decades.
Long after his celebrity faded at home, Lewis was wildly popular in France, where he was hailed as le Roi du Crazy (the king of crazy) and in 1984 inducted into the Legion of Honor, France's highest award.
Lewis, born Joseph Levitch on March 16, 1926, in Newark, New Jersey, started on upstate New York's Borscht Belt comedy circuit as a singer at age five.
He first teamed with Martin in 1946 while they were performing in a nightclub in Atlantic City, New Jersey.
Their relationship soured and by the time they made their last movie together, they reportedly were not speaking. They parted after a 1956 nightclub show, 10 years to the day after they first teamed up.
Lewis became closely associated with his annual Labor Day telethon to benefit children with muscular dystrophy. He first started doing telethons for the Muscular Dystrophy Association in 1952 before retiring from the job in 2011.
Cazau said that from their inception in 1966 his Labor Day telethons had raised US$2.45 billion over about 45 years.
Comments will be moderated. Keep comments relevant to the article. Remarks containing abusive and obscene language, personal attacks of any kind or promotion will be removed and the user banned. Final decision will be at the discretion of the Taipei Times.