Siege at Kenya deputy president's home before vote
Elite Kenyan security forces on Sunday killed a man at the home of Kenyan Deputy President William Ruto, ending a 20-hour siege that left one officer dead and another wounded, security officials said.
Ruto and his family were not at the vast property in the northwest when the attack began on Saturday, less than two weeks before what are expected to be tightly fought elections.
Ruto on Sunday condemned the violence at a campaign rally.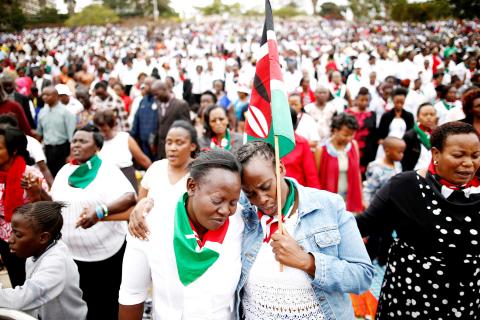 People pray during a rally in Nairobi on Sunday calling for peace ahead of Kenya's election scheduled for Tuesday next week.
Photo: Reuters
"Those who seek to frustrate our unity, undermine our progress or work toward destroying our nationhood will not succeed," he told supporters in the town of Murang'a.
One attacker was shot and killed in the assault, while a police officer was found dead after being taken hostage by the assailant in an armory where he holed up, Kenyan Police Chief Joseph Boinnet said.
"The situation is under control," Boinnet said, adding that the attack began when an intruder stabbed a police officer guarding Ruto's house, wounding him and stealing his gun.
Regional security coordinator Wanyama Musyambo said the assailant then fled into an armory on the compound's grounds.
"It was a very delicate operation because, being in the armory, he was at an advantage and was firing various weapons, and this caused confusion because you would think there was more than one person firing," Musyambo said.
While Boinnet said there was only one assailant, several security sources had earlier told reporters that the assault was staged by multiple people using guns, raising the possibility that some of the attackers remain at large.
"There are armed people who staged the attack and have shot the GSU officer and stolen his gun," one security official said, referring to the elite police General Security Unit deployed to guard Ruto's house.
The deputy president had left the house shortly before the attack to attend rallies alongside Kenyan President Uhuru Kenyatta, his running mate who faces a re-election contest on Tuesday next week against longtime opposition leader Raila Odinga.
Kenyatta did not address the attack during appearances at multiple rallies on Sunday.
The attack occurred despite the round-the-clock presence of GSU guards at the property, near the town of Eldoret, about 300km northwest of Nairobi.
Moses Wetang'ula, leader of one of five opposition parties in the coalition backing Odinga, called the incident "unfortunate" in comments to the Standard newspaper, but questioned if it could be an attempt to heighten security fears ahead of the vote.
"We hope it is not a ploy to play victim," Wetang'ula said.
Ruto's home sits in Kenya's western Rift Valley area, the flashpoint for an outbreak of clashes after the violence that followed the disputed 2007 polls, leaving 1,100 people dead and tarnishing Kenya's image as a regional beacon of safety and stability.
Opinion polls suggest that this year's election will be close and tensions have been rising.
Odinga has repeatedly said the government is scheming to steal the election, while Kenyatta has accused Odinga of trying to delay the polls.
Human Rights Watch last month said it had received reports of threats and voter intimidation in Naivasha, a hotspot town in 2007 and one of the potential trouble spots in this year's election.
In the Rift Valley, hate speech flyers have been circulating and some local residents have already left their homes.
The 2007 bloodshed haunted both Ruto and Kenyatta long after it ended, when the International Criminal Court put both on trial for orchestrating the violence.
Those charges were later dropped, with the court's chief prosecutor Fatou Bensouda blaming a relentless campaign of victim intimidation for making a trial impossible.
Comments will be moderated. Keep comments relevant to the article. Remarks containing abusive and obscene language, personal attacks of any kind or promotion will be removed and the user banned. Final decision will be at the discretion of the Taipei Times.