Australia to help Sri Lanka combat dengue
Australia is contributing funds to help Sri Lanka combat its worst outbreak of dengue fever, which has claimed 250 lives and infected nearly 100,000 people so far this year in the Indian Ocean island nation.
Visiting Australian Minister for Foreign Affairs Julie Bishop on Wednesday night said that Australia is giving A$475,000 (US$377,000) to the WHO to implement immediate dengue prevention, management and eradication programs in Sri Lanka.
Sri Lanka's hospitals are overcrowded with patients, and the government has deployed soldiers, police and health officials to inspect houses and clear rotting garbage, stagnant water pools and other potential mosquito-breeding grounds across the country.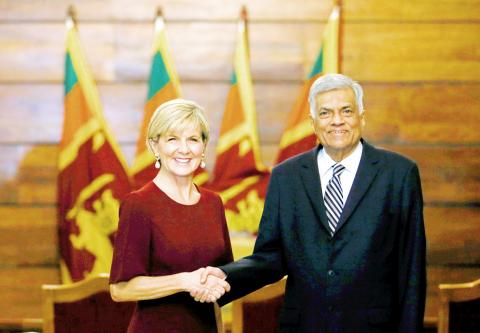 Australian Minister for Foreign Affairs Julie Bishop, left, shakes hands with Sri Lankan Prime Minister Ranil Wickremesinghe before a meeting in Colombo yesterday.
Photo: Reuters
Health officials blamed the public for their failure to clear puddles and piles of trash after last month's heavy monsoon rains.
The number of infections nationwide is already 38 percent higher than last year, when 55,150 people were diagnosed with dengue and 97 died, according to the Sri Lankan Ministry of Health. Cases were concentrated around Colombo, though they were nationwide.
Bishop is on a two-day visit and was scheduled yesterday to meet with government leaders.
She said Australia is offering an additional A$1 million for a research partnership between Australia's Monash University and the health ministry to test the introduction of naturally occurring Wolbachia bacteria to eradicate dengue fever from Sri Lanka.
The bacteria "prevent transmission of dengue virus between humans" and that it has shown success during the past six years in several nations, she said.
Comments will be moderated. Keep comments relevant to the article. Remarks containing abusive and obscene language, personal attacks of any kind or promotion will be removed and the user banned. Final decision will be at the discretion of the Taipei Times.