Trump may make 'sneak' visit to UK within fortnight
Protesters are preparing to spring into action at short notice after it emerged that Downing Street is braced for a snap visit from US President Donald Trump in the next two weeks.
A formal state visit, which was expected to take place over the summer after British Prime Minister Theresa May personally extended an invitation when she visited the White House late last year, was postponed last month amid fears that it could be disrupted by mass protests.
However, Whitehall sources confirmed that the government had been warned that Trump might visit Turnberry, his golf resort in Scotland, during his trip to Europe between attending the G20 summit in Hamburg this weekend and joining Bastille Day celebrations in France on Friday next week.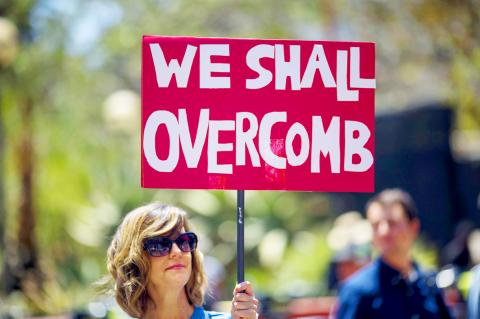 People participate in a march calling for the impeachment of US President Donald Trump on Sunday in Los Angeles, California.
Photo: AFP
The US president would be expected to come to Downing Street to meet with May for informal talks as part of any such visit, although final confirmation is likely to be given with just 24 hours' notice to minimize the risk of disruption.
May invited Trump to Britain seven days after his inauguration when she became the first foreign leader to visit him in the White House.
Protesters, parliamentarians and trade unions in February vowed to hold the largest demonstrations in UK history if Trump made a state visit to the UK.
They formed the "Stop Trump" coalition and even hired a permanent staff member.
Early last month, just after the UK general election, it emerged that Trump had told May that he did not want to go ahead with the state visit until the British public supported his coming, fearing large-scale demonstrations.
After the latest rumors of a presidential visit, Stop Trump campaigner and Guardian columnist Owen Jones placed his Twitter followers on high alert, tweeting on Sunday night: "Donald Trump is planning to sneak into Britain to avoid protests. RT if you're willing to commit to protesting this bigot at short notice."
Thousands responded by retweeting the post.
On his tour of Europe, Trump is breaking with tradition by visiting Poland ahead of the G20 summit before he makes a presidential visit to traditional allies Britain, France or Germany.
Former Polish prime minister Jaroslaw Kaczynski, a founder of the ruling Law and Justice party, accused Britain of jealousy over Trump's decision to visit Poland first.
"We have new success, Trump's visit," he said. "Others envy it, the British are attacking us because of it."
Meanwhile, Trump has been accused of encouraging violence against journalists after he tweeted a video of himself at a pro-wrestling event throwing a man with a CNN logo for a head to the floor.
The White House did not respond immediately to a request for comment.
Comments will be moderated. Keep comments relevant to the article. Remarks containing abusive and obscene language, personal attacks of any kind or promotion will be removed and the user banned. Final decision will be at the discretion of the Taipei Times.