General strike, protests jolt Brazil's major cities
A general strike disrupted major cities across Brazil on Friday as union workers protested Brazilian President Michel Temer's proposal to loosen labor rules and trim pension benefits.
In Sao Paulo, protesters blocked some of the city's main roads and highways and hindered access to Guarulhos Airport, the biggest in the country.
Later in the day, thousands marched toward the city hall.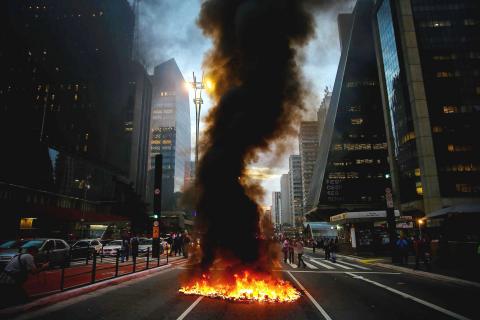 Demonstrators on Friday block a road in Sao Paulo, Brazil.
Photo: EPA
Access to Rio de Janeiro's downtown was blocked early in the day, with traffic jams stretching 14km out from lines of strikers and rows of burning tires.
"We must defeat the labor and pension reforms because it is the return of slavery, and you'll have to work until you're 100, 200 years old" said Iran de Paula, a lawyer who belongs to the Movement for Roofless Workers.
Protesters in Rio gathered in front of the Guanabara Palace, the seat of the Rio State Government.
University teachers demanded the government pay back wages owed them.
Thousands of state workers have not been paid in months because of an acute budget crisis.
At the end of the day, about 6,000 people gathered in downtown Rio de Janeiro with banners denouncing Brazil's government and demanding the ouster of Temer and of Rio Governor Luiz Fernando Pezao, who are both from the same party.
"Brazilians are happy even when protesting, but the moment will come when we'll have to hit harder, with more violence, against those thieves that govern us," said Ivete Franca, a 70-year-old retired history professor.
With her pension payment on hold, Franca said she is already living out of her emergency funds.
Police fired tear gas and rubber bullets to disperse the demonstration after a few protesters started burning piles of garbage.
The strike also affected other big cities, including Porto Alegre, Belo Horizonte and Brasilia.
Temer's work rule proposal before the Brazilian Congress would make it easier for employers to hire temporary workers and pay fewer benefits. The pension overhaul that he is pushing would raise the retirement age and trim payments. Many Brazilian public workers can retire at 54 with nearly full benefits. The proposal would set a minimum retirement age for the first time in Brazil, at 65 for men and 62 for women.
The proposals are unpopular and it is unclear if even watered-down versions would be passed because of Brazil's deep political crisis set off by sprawling corruption investigations that have brought charges against many top politicians, including the president.
Temer has been charged with bribery.
The lower Chamber of Deputies in Congress is to soon begin reviewing allegations against him.
If two-thirds vote that the case has merit, Temer would be suspended for up 180 days while the country's top court conducted a trial. Temer denies wrongdoing.
Comments will be moderated. Keep comments relevant to the article. Remarks containing abusive and obscene language, personal attacks of any kind or promotion will be removed and the user banned. Final decision will be at the discretion of the Taipei Times.