Bid to reveal Trump travel costs fails
The Republican-led US House of Representatives Armed Services Committee late on Wednesday narrowly defeated a bid by Democrats to compel the US Air Force to detail how much has been spent on trips that US President Donald Trump has made to his Florida estate and other properties he owns.
Republicans denounced the measure as "gotcha politics" and an attempt to litigate last year's presidential election.
However, Democrats fired back, saying Trump has invited the scrutiny by refusing to divest himself from his business empire or release his taxes.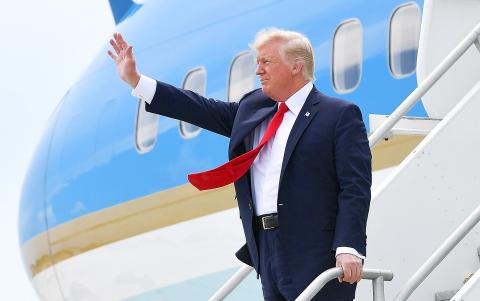 US President Donald Trump steps off Air Force One upon his arrival at Miami International Airport in Miami on June 16.
Photo: AFP
"This is different," US Representative Adam Smith said. "This is unprecedented."
US Representative Tom O'Halleran authored the measure as an amendment to the annual defense policy bill being considered late on Wednesday by the committee.
Committee members voted 31-31 on the measure, but ties count as defeats.
The amendment would have required the air force to regularly submit presidential travel expense reports to the US Congress. Each report would include "costs incurred" for travel to a property owned or operated by Trump or his immediate family, according to the amendment.
US Representative Mike Conaway said the committee had no business asking for the travel costs.
"This is the House Armed Services Committee," he said. "We don't oversee the federal bureau of ethics."
The US Department of Defense cannot audit its books and records as it is, Conaway said.
As US president, Trump flies on Air Force One. He is accompanied by staff members and military aides. Going to his properties incurs additional security expenses and support equipment, unlike a trip to Camp David, a government-owned retreat in Maryland that is protected year-round as a military installation.
US Air Force Secretary Heather Wilson, who was nominated to the post by Trump, told O'Halleran in a letter this month that Trump's travel costs are "consistent" with former US president Barack Obama's.
"The Air Force total cost for movement of the president" between Jan. 20, when Trump was inaugurated, and May 18 was US$15.8 million, or just under US$4 million per 30 days, Wilson said.
However, backers of O'Halleran's amendment said Wilson's response failed to provide a breakdown of costs, which is what the lawmakers want.
They are looking for "ongoing, regular transparency" of the financial impact to the air force's budget, she said.
Comments will be moderated. Keep comments relevant to the article. Remarks containing abusive and obscene language, personal attacks of any kind or promotion will be removed and the user banned. Final decision will be at the discretion of the Taipei Times.