Corruption charge raises pressure on Temer
In a scathing 64-page indictment, Brazil's top prosecutor described a scheming, arrogant and corrupt Brazilian President Michel Temer who lined his pockets with illegal money while showing little regard for the office he represented.
Whether Brazilian Attorney General Rodrigo Janot's formal accusation late on Monday pressures Temer to consider resigning — he has insisted he will not and denied any wrongdoing — could depend on the reaction of lawmakers and the markets in Latin America's largest nation in the days and weeks ahead.
When Janot opened the investigation last month, the markets tanked and Brazil's real currency fell sharply against the US dollar.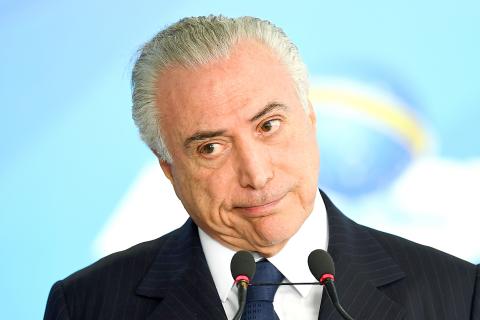 Brazilian President Michel Temer grimaces during a signing ceremony at the Planalto Palace in Brasilia on Monday.
Photo: AFP
Lawmakers, particularly members of Temer's coalition, then spent several weeks soul-searching about whether to stick with the president or bail on him because of fears that association could be toxic for election chances next year.
Now they have much more to consider.
"There will be a tug-of-war between the executive branch and society for support in Congress," said Fabiano Angelico, a Sao Paulo-based consultant, adding that ultimately lawmakers "want to get re-elected."
The corruption accusation against Temer for allegedly taking bribes gives him the dubious distinction of being the first sitting president in Latin America's largest nation to face criminal charges.
It is the latest salvo in an intensifying showdown between Temer and justice officials who are building a corruption case that reaches to the highest levels.
The office of the presidency said it would not have comment on Monday night.
The case now goes to the Chamber of Deputies, the lower house of Brazil's Congress, which must decide whether it has merit.
If two-thirds of the legislature decides that it does, then the president will be suspended for up to 180 days while a trial is conducted.
Brazilian House Speaker Rodrigo Maia, an ally of Temer, would be president in the interim.
In his decision, Janot said that at some point between March and April of this year Temer took a bribe of about US$150,000 offered by Joesly Batista, former chairman of meat-packing giant JBS.
Janot's investigation into Temer was looking into corruption, obstruction of justice and being part of a criminal organization.
A recording emerged that apparently captured Temer, in a late-night conversation with Batista earlier this year, endorsing hush money to former House speaker Eduardo Cunha, a former Temer ally who is serving a 15-year sentence for corruption.
Batista reached a plea agreement with federal prosecutors.
Janot's decision to put forward only the corruption charge may be a strategy to force the Chamber of Deputies to first deal with it before having to consider the other allegations.
The accusation comes with a blistering assessment of Temer and his actions as Brazil's top leader. Janot said bribes to Temer could have reached about US$12 million over nine months, and that Temer showed a total disregard for the office.
Janot said the "spurious scheme" had been going on for a few years and Temer had "middlemen to receive bribes."
Temer should pay US$3 million in damages, he wrote.
Temer's trip last week to Russia and Norway ended up underscoring the president's problems and Brazil's diminished stature overseas.
Few people showed up at the reception at Brazil's embassy in Moscow, no top Norwegian officials welcomed Temer at Oslo's airport and Norwegian Prime Minister Erna Solberg gave Temer a public lecture about the colossal "Car Wash" investigation that has upended Brazilian politics and could even jail Temer and several of his Cabinet ministers.
Comments will be moderated. Keep comments relevant to the article. Remarks containing abusive and obscene language, personal attacks of any kind or promotion will be removed and the user banned. Final decision will be at the discretion of the Taipei Times.