Restored WWII Zero fighter takes to skies over Japan
Salvaged from the Papua New Guinean jungle, a restored World War II Mitsubishi A6M Zero fighter has taken to the skies over the land that gave birth to the once-feared warplane.
The aircraft — emblazoned with rising sun symbols — is one of just a few airworthy Zero fighters left in the world, nearly eight decades after they struck fear into the hearts of Allied pilots.
The plane flew near Tokyo this month, watched by businessman and aviation enthusiast Masahide Ishizuka, who bought the plane for ¥350 million (US$3.1 million at the current exchange rate) in 2008.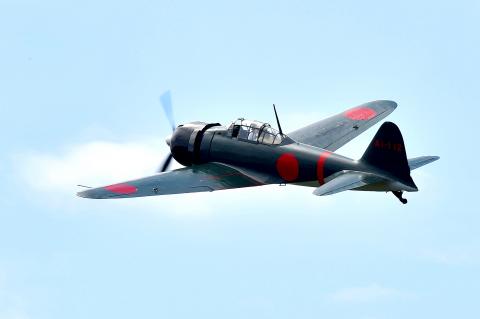 A restored Mitsubishi A6M Zero fighter flies over an airfield in Ryugasaki in Japan's Ibaraki Prefecture on June 9.
Photo: AFP
The badly damaged aircraft was originally found in the 1970s in dense jungle where it had crashed decades earlier. It later ended up in the US — Japan's chief World War II adversary.
Developed by Mitsubishi Heavy Industries, Zero planes took part in the Japanese attack on Pearl Harbor, while kamikaze suicide pilots crashed them into US ships in the later stages of the war.
"Since it was born in Japan 75 years ago, this baby has been traveling around the world," Ishizuka said after the recent flight. "I wanted to bring it back to its home country and keep it flying in the sky."
There are believed to be just four airworthy Zero fighters in the world today — more than 10,000 were made in all.
Kazuaki Yanagida, the first Japanese pilot to fly the plane, got a feeling for the wartime conditions in its cramped cockpit.
"Sitting here, I felt as if the souls of dead pilots are looking over me," he said.
Despite its fearsome reputation, Yanagida and the plane's owner said they do not want the restored fighter to stir controversy.
"The sin doesn't rest with the Zero — it was the people who fought each other," Yanagida said.
Comments will be moderated. Keep comments relevant to the article. Remarks containing abusive and obscene language, personal attacks of any kind or promotion will be removed and the user banned. Final decision will be at the discretion of the Taipei Times.