Rescuers told to evacuate landslide site
Rescue crews were yesterday ordered to evacuate the site of a deadly landslide in southwestern China over concerns of a second landslide, Xinhua news agency reported.
The order was issued after radar detected shifts in the ground where the mountains collapsed early on Saturday, Xinhua said. It was not clear if the rescue efforts had been suspended.
The massive landslide buried the entire village of Xinmo in Mao County in a mountainous region of Sichuan Province. Ten bodies have been found, and 93 people remain missing. A couple and their month-old infant are the only ones rescued so far.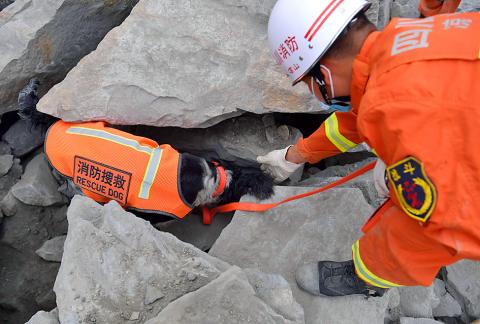 A rescue worker and a rescue dog work at the site of a landslide in Xinmo Village in China's Sichuan Province yesterday.
Photo: AFP
Experts say the mountains flanking the village of more than 100 residents are structurally damaged and prone to landslides after two major earthquakes, including a magnitude 7.9 quake that killed nearly 90,000 people in 2008 in Wenchuan, 40km away.
Saturday's landslide carried an estimated 18 million cubic meters of earth and rock — equivalent to more than 7,200 Olympic-sized swimming pools — when it slid down from steep mountains. Some of it fell from as high as 1.6km.
"Our house was somewhere around here but everything has been destroyed beyond recognition," said a middle-aged woman, one of a few residents who were away when disaster struck, after she pulled a green blanket she recognized out of the mud and rocks.
Some villagers said they have always known landslides are a big danger but authorities never offered to help them move.
Mournful wails and firecracker explosions echoed through Xinmo's steep valley as bereaved relatives returned on Sunday and yesterday, many clutching snacks and wrapped in plastic and bottles of wine as offerings for the dead.
"Every single family has been impacted by the landslide, it's horrible," said Sun Danxian, from a neighboring village who was walking through the site.
The government of Mao County yesterday posted drone video footage of the area showing about dozen mechanical diggers shifting through a landscape of grey rocks.
Earlier on Monday, about 100 villagers, unhappy with what they said was limited information, met government officials at a nearby elementary school, insisting they had to get to Xinmo.
They also voiced fears about the possibility of rebuilding homes before winter and what would happened to orphans.
"These government officials have been lying to us for three days," said a middle-aged man from Xinmo, with several missing relatives, who declined to give his name.
"They told us we could go back yesterday morning, but they kept delaying and delaying giving us all kinds of excuses. They told us a central government official was going to come to visit us. He showed up and didn't even bother to speak to us," the man said.
Another relative said the government should have moved them out of an area they knew was prone to landslides.
"There have been landslides before but no one has ever suggested we move. The government knows it's dangerous to live in these kinds of villages and yet they do nothing," said the elderly man, who also would not provide his name.
The official China Daily cited Xu Qiang, a disaster expert at the Ministry of Land and Resources, as saying large-scale relocations in the area were difficult.
"Many of the villagers have been living here for generations and have seen no major geological disasters," Xu said. "This is their home and livelihood and it is very difficult to convince them to leave, specially when you only have a hypothesis and predictions."
Additional reporting by Reuters
Comments will be moderated. Keep comments relevant to the article. Remarks containing abusive and obscene language, personal attacks of any kind or promotion will be removed and the user banned. Final decision will be at the discretion of the Taipei Times.