Desperate Rohingya seek new escape routes from Bangladesh by air and foot
In squalid camps in Bangladesh, hundreds of thousands of Rohingya who have fled violence and persecution in neighboring Myanmar dream of a better life abroad — and rely on increasingly high-tech trafficking networks to get them there.
Dhaka denies new arrivals refugee status and, after a major crackdown sealed off the ocean routes traditionally used to traffic migrants to Southeast Asia, many Rohingya are turning to complex smuggling operations to escape Bangladesh.
"People are desperate to leave the camps," community leader Mohammad Idris said. "Those who have money or gold ornaments are paying smugglers to get them out by air, and those who don't are trying roads."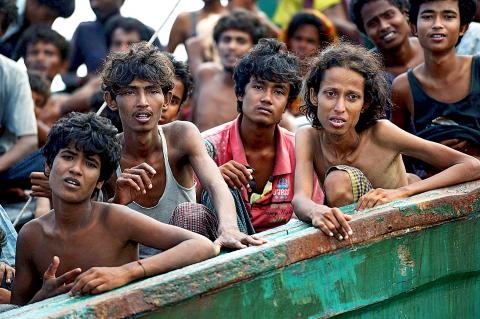 Rohingya migrants sit on a boat drifting in the waters off Thailand's Koh Lipe in the Andaman Sea on May 14, 2015.
Photo: AFP
The Rohingya, who live mainly in Myanmar, are one of the most persecuted minorities in the world.
Many now live in grinding poverty in Bangladesh's southeast coastal district of Cox's Bazar, packed into camps that were home to more than 300,000 Rohingya even before about 70,000 new arrivals poured across the border after the Burmese army launched a bloody crackdown in October last year.
Bangladesh denies them the right to work and is proposing to rehouse them on a mosquito-infested island that regularly floods at high tide.
For years, rickety boats were the main mode of escape for the refugees who would pay hefty amounts to smugglers to get them to Malaysia and Thailand.
Those routes were cut off in 2015 when mass graves of would-be migrants, many of them killed at sea, were discovered in Thailand, triggering a global outcry and a major crackdown on traffickers.
However, the smuggling networks swiftly identified new routes out of Bangladesh by air and road, using mobile payments to operate internationally.
Mohammad, an undocumented 20-year-old Rohingya, said he spent 600,000 Bangladeshi takas (US$7,446) to reach Saudi Arabia, where he now lives.
"I paid a local friend for a Bangladeshi passport and other papers. He also helped me pass through the immigration," Mohammad said using the WhatsApp messaging service.
He asked that his family name not be used.
As it becomes more difficult for refugees to leave Bangladesh, many have been forced to head to destinations once considered less appealing.
Those who cannot afford flights are using buses and even traveling on foot to escape Bangladesh, going to India before moving on to Nepal or Pakistan.
Some have even settled in the troubled Kashmir region.
There is no reliable data on the value of the trafficking trade, but estimates suggest it is worth millions of US dollars in Bangladesh alone.
These networks arrange fake Bangladeshi passports and birth certificates for the Rohingya, a stateless ethnic minority denied citizenship rights in Myanmar even though they have lived in the Buddhist-majority nation for generations.
"It's unbelievable how deep the traffickers' grassroots network is and how smoothly they operate across nations," said Shakirul Islam, head of a refugees' welfare organization called Ovibashi Karmi Unnayan Program.
Migration expert Jalaluddin Sikder said a proliferation of mobile phone money transfer services in Bangladesh was making it easier for the traffickers to do business internationally.
"Multinational trafficking rackets are now a phone call away," said Sikder, who works in Dhaka's Refugee and Migratory Movements Research Unit, Bangladesh's main private think tank on cross-border migration.
Research conducted last year by a local charity uncovered complex underground trafficking networks that span the globe, using sophisticated technology to distribute payments globally without detection.
"They are efficient in distributing the money to all the key players," said Selim Ahmed Parvez, researcher for the Manusher Jonno Foundation.
These range from "local trafficking agents, to law-enforcing officers, administrative officials, politicians and the kingpins," he said.
The Rapid Action Battalion (RAB), an elite force fighting militancy and organized crime in Bangladesh, said they were working to stop Rohingya being smuggled out of the country.
"It [trafficking] is happening here and we're trying hard to identify the routes and the channels the smugglers use," said Nurul Amin, RAB commander for Cox's Bazar.
Comments will be moderated. Keep comments relevant to the article. Remarks containing abusive and obscene language, personal attacks of any kind or promotion will be removed and the user banned. Final decision will be at the discretion of the Taipei Times.