Journalists accuse Mexico of spying
TARGETED: Reporters and critics of the government received text messages that contained spyware that its manufacturer only sells to governments
Activists, human-rights lawyers and journalists in Mexico on Monday filed a criminal complaint following a report that their smartphones had been infected with spying software sold to the government to fight criminals and terrorists.
The complaint to the attorney general's office by nine people followed a report by the New York Times that some of them had been spied on with software known as Pegasus, which Israeli company NSO Group sold to Mexico's government.
Citing a report by a research group that investigated the alleged spying, the complaint says the attorney general's office and the Secretariat of National Defense were among government organizations that purchased the software.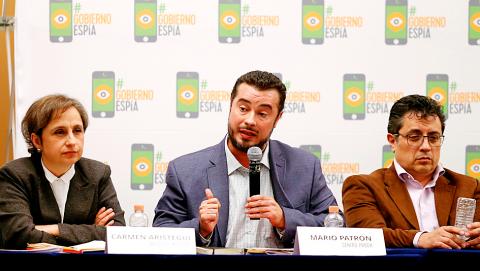 Human Rights Center Miguel Agustin Pro Juarez director Mario Patron, center, speaks at a news conference in Mexico City on Monday as journalists Carmen Aristegui, left, and Daniel Lizarraga listen.
Photo: Reuters
"This is an operation by the Mexican state, in which state agents — far from doing what they should legally do — have used our resources, our taxes, our money to commit serious abuses," journalist Carmen Aristegui said.
Aristegui, a veteran reporter, is known in Mexico for the 2014 expose revealing that Mexican President Enrique Pena Nieto's wife had bought a US$7 million Mexico City mansion from a government contractor. She said members of her staff and her 16-year-old son were also targeted.
She is among the 76 cases the plaintiffs say they have documented of high-tech spyware being installed on their phones and those of their families and associates.
Targets received SMS messages with links which appeared legitimate, but led to false Web sites and the installation of malware on their mobile phones, an investigation by the press freedom organization Article 19 and Citizen Lab at the University of Toronto found.
The malware recorded keystrokes and compromised contact lists. It was used against targets ranging from activists pushing for soda taxes to journalists reporting on alleged army atrocities and the lawyers representing the families of the 43 teacher trainees abducted by police.
When unflattering stories hit the headlines, researchers say SMS messages carrying malware links would arrive on the targets' smartphones.
Once activated, "it's game over," Citizen Lab senior researcher John Scott Railton said.
The spyware, produced by the Israeli NSO Group Technologies, is only sold to governments, prompting researchers to conclude that the spying was state-sponsored — though they cautioned it had "no conclusive evidence attributing these messages to specific government agencies in Mexico."
The scandal prompted outrage in Mexico, where attacks on the media and activists routinely end in impunity, and where six journalists have been murdered this year.
"Espionage in Mexico has become an effective mechanism for intimidating human rights defenders, activists and journalists," a statement from some of the alleged victims said. "It makes it possible to control the flow of information as well as abuses of power."
The spying marked the latest escalation in a tense relationship Pena Nieto's administration and his Institutional Revolutionary party (PRI) and Mexican civil society.
Pena Nieto has promoted Mexico internationally as progressive and reformist and his actively denounced a deterioration of democracy in Venezuela.
However, critics question his record at home, and point to the espionage against activists and journalists exposing his administration's worst excesses — such as the Casa Blanca scandal.
"They have authoritarian tendencies," Mexican Institute for Competitiveness (IMCO) deputy director Manuel Molano, who received texts with malware links.
IMCO has championed the creation of an anti-corruption system and an initiative to make politicians' patrimonies public.
IMCO director Juan Pardinas told Times that his wife received erroneous messages alleging an extramarital affair and stories of armed individuals outside their home as an enticement to click the included link.
Former National Action party politician Gerardo Priego said spying is nothing new in Mexico.
Daniel Millan, a spokesman for Pena Nieto's office, issued a statement saying that there was no proof the Mexican government was responsible for the spying described in the Times story.
"We condemn any attempt to violate the right to privacy of any person," the statement said.
Mexico's government purchased about US$80 million worth of spyware from NSO Group on condition it would only be used to investigate criminals and terrorists, the Times said.
Comments will be moderated. Keep comments relevant to the article. Remarks containing abusive and obscene language, personal attacks of any kind or promotion will be removed and the user banned. Final decision will be at the discretion of the Taipei Times.