Two killed in suspected militant attack in Mali
ON NOTICE: The US embassy in Mali had earlier this month warned of an increased threat of attack in the region, especially in areas frequented by foreigners
Suspected militants crying "Allahu Akbar" (God is great") on Sunday stormed a tourist resort popular with foreigners on the edge of the Malian capital, Bamako, briefly seizing more than 30 hostages and leaving at least two people dead.
The assault on the Kangaba Le Campement resort comes after a similar strike less than two years ago on a luxury hotel in Bamako, which lies in the south of the troubled country.
Four assailants were killed by security forces, the Malian minister of security said late on Sunday, without specifying if more were on the run.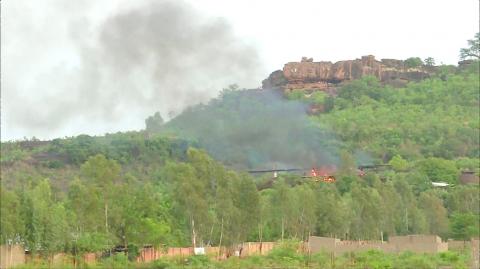 Flames rise on Sunday following an attack where militants stormed Kangaba Le Campement resort in Dougourakoro, to the east of Bamako, Mali.
Photo: Reuters
Nearby residents had first reported the attack after hearing shots while smoke billowed into the air, with at least one building ablaze.
"It is a jihadist attack. Malian special forces intervened," Malian Minister of Security Salif Traore said, adding that two people had been killed, including a Franco-Gabonese.
He later told journalists that "we have recovered the bodies of two attackers who were killed" and were searching for the bodies of two others.
"We were able to rescue around 36 guests and workers from the resort," including about 15 French nationals and a similar number of Malians, he added.
The special forces were supported by UN soldiers and French counter-terrorism troops.
The Malian army said that one of the attackers was wounded and gave up his weapon.
He also left behind "bottles containing some explosive substances," the security ministry said.
At least 14 people, Malians and foreigners, were injured, the ministry said.
A witness interviewed on local television station ORTM said he saw a man arrive on a motorcycle who "started shooting at the crowd" followed by "two or three people" who came in another vehicle.
The landlocked west African country has been fighting a militant insurgency for several years, with fighters roaming the north and center of Mali.
French President Emmanuel Macron, who is scheduled to visit Bamako on July 2 for a meeting with five Sahel countries, "is following the situation very closely," the presidency said on Sunday.
Several people rescued at Kangaba said assailants had shouted "Allahu Akbar," although no group has yet claimed responsibility.
The US embassy in Bamako had warned earlier this month "of a possible increased threat of attacks against Western diplomatic missions, places of worship and other locations in Bamako where Westerners frequent."
At a France-Africa summit in Bamako in January, the owner of Kangaba, Herve Depardieu, had complained about the "alarming security information" given by foreign consulates "which seriously disturb our love of life and our freedoms."
Comments will be moderated. Keep comments relevant to the article. Remarks containing abusive and obscene language, personal attacks of any kind or promotion will be removed and the user banned. Final decision will be at the discretion of the Taipei Times.