Lee Kuan Yew will spat lingers
Lee Hsien Yang (李顯揚), the brother of Singapore's prime minister, yesterday said on Facebook that his father had expressly instructed the drafting of a last will directing the demolition of the family's iconic home, the latest salvo in a public feud between the city-state's leader and his two younger siblings.
The comments by Lee Hsien Yang followed those made by Singaporean Prime Minister Lee Hsien Loong (李顯龍) on Thursday that there were "serious questions" and "deeply troubling circumstances" over how the final will of their father, Lee Kuan Yew (李光耀), was drawn up.
The feud between the children of Lee Kuan Yew, Singapore's first prime minister, over the future of the family home erupted publicly this week in a flurry of accusations and denials through press releases and Facebook postings, which also touched on Lee Hsien Loong's leadership.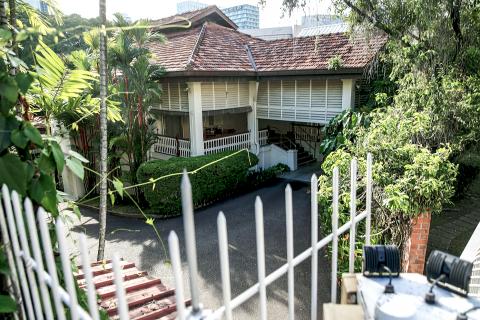 Former Singaporean prime minister Lee Kuan Yew's house is pictured in Singapore on Wednesday.
Photo: EPA
However, Lee Hsien Yang and his sister, Lee Wei Ling (李瑋玲), say they had lost confidence in their elder brother as a leader and feared that state power would be used against them in their dispute with him.
The prime minister has denied these allegations and said he was very disappointed that they have chosen to publicise family matters.
In his last will, part of which was released by Lee Hsien Yang on Thursday, Lee Kuan Yew, who ruled Singapore for three decades, said he wanted his house, a humbly furnished home near the bustling Orchard shopping district, to be demolished.
Lee Hsien Loong questioned in a six-page timeline whether Lee Kuan Yew knew a clause about the demolition, which was removed in the fifth and sixth versions of the will, was re-instated in the seventh and final will, saying there was no evidence that he did.
The prime minister said he had recused himself from all government decisions regarding the house, and in his personal capacity, would also like to see Lee Kuan Yew's wish honoured.
His brother Lee Hsien Yang yesterday said Lee Kuan Yew's final will was engrossed on the basis of Lee Kuan Yew's "express instruction" to revert to his first will, attaching to the statement what appeared to be an e-mail message from Lee Kuan Yew that states his plan to sign it before a solicitor.
"Lee Kuan Yew's final will was simply Lee Kuan Yew's first will of 20 Aug 2011 re-executed on his instruction," Lee Hsien Yang said on Facebook.
Comments will be moderated. Keep comments relevant to the article. Remarks containing abusive and obscene language, personal attacks of any kind or promotion will be removed and the user banned. Final decision will be at the discretion of the Taipei Times.