Chinese principal ferries kids to school
After school, a dozen children strap on life jackets under their backpacks before boarding a boat in southwest China.
A 60-year-old man then sinks a pole into the green waters of the Xiangshuitan Reservoir to push the punt in the daily, half-hour-long trip between the elementary school and the pupils' village.
He is none other than the school principal.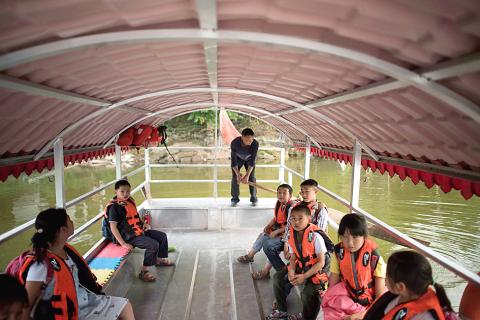 School principal Li Congshu steers his boat, with students aboard, across the Xiangshuitan Reservoir in Chongqing, China, on May 31.
Photo: AFP
"I do not have a choice because it would take too long for them to walk this far. The shortest route passes through the reservoir," Li Congshu said. "That's why I bought a boat to transport them."
Li drew on his own savings to purchase the boats. The school is on its fifth boat, after Li bought the first more than 20 years ago.
"It has become a part of my life, like teaching," he said.
In addition to his duties as a ferryman and principal, Li teaches one of the five classes the small school offers each day in Dazu District, in the sprawling municipality of Chongqing.
"People tell me to stop boating because I am 60 this year, but there is no other solution. They do not want to pay someone, so I have to go on," he said.
The crossing takes about half an hour compared with the two hours it would take the children to walk one way.
However, since Li lives at the school, he must first pick up his pupils in the morning, then return alone in the evening, spending a total of two hours each day propelling the boat.
"There has never been an incident. Everyone recognizes that it is safe," he said.
Comments will be moderated. Keep comments relevant to the article. Remarks containing abusive and obscene language, personal attacks of any kind or promotion will be removed and the user banned. Final decision will be at the discretion of the Taipei Times.