Venezuelan army holds the key as country teeters
'JOIN US': More than a dozen military officers were arrested for refusing to attack the protesters, who are calling on the army stop backing the president
It was 10am and the newly promoted lieutenant was already sweating under his plastic face shield and black flak jacket.
A few days before, the 28-year-old, who goes by the name of Catire, had watched a national guardsman get his arm broken at a protest.
A week earlier, a friend collapsed several paces from him on the riot line, shot through the groin.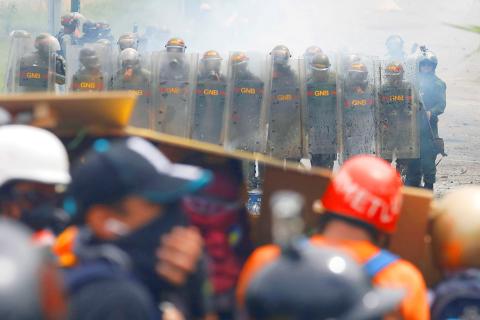 Members of the Venezuelan National Guard, in the background, take position during clashes with anti-government protesters in Caracas on Tuesday.
Photo: Reuters
Catire pulled up his visor and chain-smoked by his motorcycle, hoping the day would pass quickly.
Several kilometers away on the other side of the city, tens of thousands of Venezuelans in white shirts and homemade gas masks gathered to march toward Catire and his unit, part of a bloody protest movement that has seen dozens of deaths in more than two months of turmoil.
Catire's family suffers along with protesters who skip meals while watching their money become worthless. The lieutenant is unsure whether to blame the government or the opposition for the crisis. What he and other soldiers decide in the coming months could decide the country's fate.
Venezuelan President Nicolas Maduro has greatly expanded the military's authority and is leaning on the armed forces as his own grip on power weakens.
The military has helped hold up the socialist administration for more than a decade, but never before was it the government's main crutch, and despite the outward loyalty of top officers, cracks are beginning to appear.
In April, three lieutenants publicly rejected the Venezuelan president as commander-in-chief and sought asylum in Colombia.
Another lieutenant in a restive western state cut up his official military ID card as supporters cheered.
"Soldiers must not turn their arms on the people," he said.
Days later, he was in military prison.
"The country is unhappy with the situation right now and the armed forces are no exception. The military has traditionally been on the right side of history here. If they turn, it's all over for Maduro," said Cliver Alcala, a retired Venezuelan general who participated in an unsuccessful 1992 coup attempt led by a then-unknown junior officer named Hugo Chavez.
These days, Alcala is a vocal opponent of the socialist government installed by Chavez after he won election to the Venezuelan presidency in 1998.
Despite counterintelligence and close surveillance in the barracks, Maduro is unlikely to know an uprising is brewing until it is already upon him, Alcala said.
Any actual coup would cause an international crisis across a hemisphere profoundly scarred by the bloody military takeovers that marked much of the past century.
However, most opposition figures are hoping for much more passive support: for soldiers to hold back from attacks on protesters.
More than a dozen military officers were arrested during the first two weeks of the protests and thrown into a military prison on suspicion of rebellion, according to military documents provided to reporters by a third party.
The government has pampered the armed forces as much as an economy in shambles will allow.
Before Catire put on his green fatigues, knee-high boots and black body armor, he sat down to a breakfast of two corn cakes, beans, eggs and coffee with milk — more than many Venezuelans eat in a day.
By noon, he and other soldiers were turning back the crowd with tear gas and water cannons.
Toward the day's end, a group of women approached Catire's post and shouted: "Lay down your arms and join us."
Some stripped naked and threw their clothes over the 3.6m barricade the soldiers had set up.
However, the young men stayed immobile and silent.
"Take down this wall," the women said.
After a few more hours, both sides went home to cool down and prepare to repeat the whole process the next morning.
Comments will be moderated. Keep comments relevant to the article. Remarks containing abusive and obscene language, personal attacks of any kind or promotion will be removed and the user banned. Final decision will be at the discretion of the Taipei Times.