Disputed election result to go to court in Mexico
The hotly contested Mexico State election is heading to court after the president's cousin was declared the victor amid widespread allegations of voter intimidation, vote buying and misuse of public resources.
Institutional Revolutionary Party (PRI) candidate Alfredo del Mazo was declared the winner after early results gave him a two-point lead over left-wing National Regeneration Party (MORENA) candidate Delfina Gomez.
However, with the vote so close, MORENA — led by the populist firebrand Andres Manuel Lopez Obrador — is refusing to accept the initial results. The full count is scheduled to be completed today, after which MORENA will almost certainly seek that the election be annulled.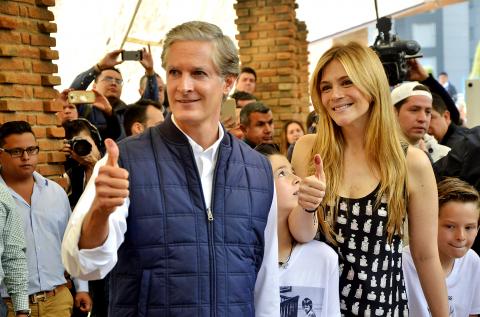 Institutional Revolutionary Party Mexico State gubernatorial candidate Alfredo del Mazo on Saturday votes at a polling station in Huixquilucan, Mexico State.
Photo: AFP
Both parties simultaneously claimed victory shortly after polling stations closed on Sunday night and the stage is set for another messy court battle over coming weeks.
Lopez Obrador led weeks of protests in Mexico City after he refused to accept a a wafer-thin defeat to Felipe Calderon in the 2006 presidential election. He came second in the 2012 election — and again contested the result.
All the major opposition parties have accused the PRI of using state and federal resources to ensure the party retained power in the state — the home turf of Mexican President Enrique Pena Nieto.
The Mexican Specialized Office for Electoral Crimes has received hundreds of complaints, many for alleged vote buying.
Juan Cortez told reporters that he was one of hundreds of state government employees who were forced to work on the PRI campaign.
Cortez said that he set up committees of 10 people in a small community in the municipality of Tultitlan.
Committee members were given cash benefits in exchange for assuring 10 votes each, which they did by telling their neighbors that the community would lose basic services and social programs if the PRI lost, he said.
"Our job was to ensure people vote for the PRI, or don't vote at all," said Cortez, who requested his name be changed to avoid repercussions. "The tactics we're forced to use are illegal, but working for the government means we're forced to work for the party."
Comments will be moderated. Keep comments relevant to the article. Remarks containing abusive and obscene language, personal attacks of any kind or promotion will be removed and the user banned. Final decision will be at the discretion of the Taipei Times.