UN rights boss calls for end to Israeli occupation
US THREAT: The US yesterday gave formal notice that it is reviewing its participation in the UN Human Rights council, and urged an end to its 'chronic anti-Israel bias'
The top UN human rights official yesterday called for Israel to pull out of territories captured in a 1967 war that Palestinians now seek for a state, saying it would benefit both sides after 50 years of enmity.
In six days of war in June 1967, Israel seized the West Bank and East Jerusalem from Jordan, the Gaza Strip from Egypt and the Golan Heights from Syria.
Palestinians want a state in the West Bank and Gaza with East Jerusalem as their capital.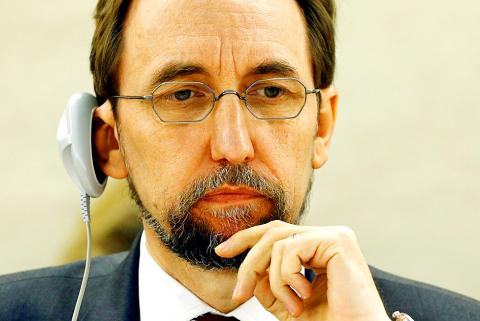 UN High Commissioner for Human Rights Zeid Ra'ad al-Hussein listens during a meeting of the UN Human Rights Council in Geneva, Switzerland, yesterday.
Photo: Reuters
In a speech opening a three-week session of the UN Human Rights Council, UN High Commissioner for Human Rights Zeid Ra'ad al-Hussein focused on the 50th anniversary of when he "first heard the sound of war" as a boy in Amman, Jordan.
He said Palestinians were now marking "a half-century of deep suffering under an occupation imposed by military force" and marked by "systematic" violations of international law.
Israelis also deserve freedom from violence, Zeid said, adding: "Maintain the occupation and for both peoples there will only be a prolongation of immense pain."
There are now 350,000 Israelis living in settlements across the West Bank with an air of permanence. Many countries see the settlements as illegal. Israel disputes this, citing historical, biblical and political connections to the West Bank and East Jerusalem, as well as security considerations.
After the 1967 war, Israel annexed East Jerusalem and deems all of the city its "indivisible and eternal capital," a status not recognized internationally.
Israel pulled out of Gaza in 2005 and it is now ruled by the Hamas group.
Zeid also said UN staff had reported that 163 Iraqi civilians were shot dead by the Islamic State group in western Mosul on June 1 "to prevent them from fleeing" as US-led Iraqi forces seek to oust the militants from their last major urban bastion.
"The brutality of DAESH and other terrorist groups seemingly knows no bounds," he said, using the derogatory Arabic term for the militant group.
"Yesterday, my staff reported to me that bodies of murdered Iraqi men, women and children still lay on the streets of the al-Shira neighborhood of western Mosul, after at least 163 people were shot and killed by DAESH to prevent them from fleeing," he said.
Zeid condemned "in the strongest terms the cowardly and sickening attacks perpetrated against innocent people by callous terrorists operating in many parts of the world."
He also took criticized certain countries for refusing access to his staff or to independent UN investigators, including Burundi, Venezuela and the Philippines, which have seats on the 47-member state forum.
Meanwhile, US President Donald Trump's administration gave formal notice that it is reviewing its participation in the rights council and called for reforming the body to eliminate its "chronic anti-Israel bias."
"The United States is looking carefully at this council and our participation in it. We see some areas for significant strengthening," US Ambassador to the UN Nikki Haley told the Geneva forum in her first address.
She also called for the council to address serious human rights violations in Venezuela and for the government of Venezuelan President Nicolas Maduro to give up its seat in the 47-member forum unless it gets its "house in order."
Additional reporting by AFP
Comments will be moderated. Keep comments relevant to the article. Remarks containing abusive and obscene language, personal attacks of any kind or promotion will be removed and the user banned. Final decision will be at the discretion of the Taipei Times.