Cambodia leader warns opposition over poll results
VOTER INTIMIDATION? Prime Minister Hun Sen and top aides have frequently used strong rhetoric ahead of the elections, warning of grim consequences of a loss
Cambodia's long-time ruler yesterday warned opposition parties not to challenge the result of tomorrow's local elections or they could be dissolved.
Cambodian Prime Minister Hun Sen made a rare appearance on the last day of rallies before the vote to drum up support for his ruling Cambodian People's Party. He has repeatedly warned of civil war if his party loses.
The party has been accused of using violence or the threat of violence against opponents, but in recent years has stalked its foes mostly in courts.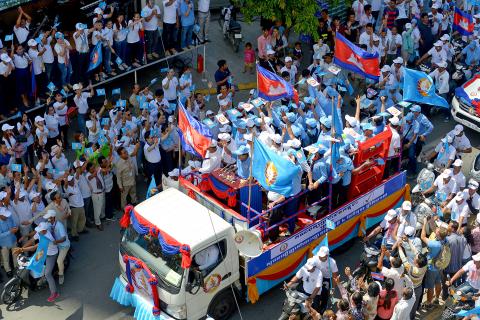 Cambodian Prime Minister Hun Sen, center, waves to supporters from a truck at a rally in Phnom Penh yesterday, the last day of campaigning for commune elections.
Photo: AFP
The polls could have a major impact on Cambodia's political landscape ahead of next year's national elections. Hun Sen's iron grip on power was shaken four years ago, when the opposition Cambodia National Rescue Party won 55 of 123 Cambodian National Assembly seats in the last general election.
The opposition claimed it had actually won, but was cheated out of its victory and has said it is confident it will sweep tomorrow's polls for seats in 1,646 communes — or clusters of villages — throughout the country.
Hun Sen, appearing at a rally apparently for the first time in about 20 years, appealed to all political parties to accept the outcome rather than make accusations of irregularities, saying courts can dissolve any party if it challenges the result of the vote.
"There is absolutely only the Cambodian People's Party that has a full ability to control and maintain peace for the sake of continuing to develop our country," he said. "I do hope all parties will accept the outcome. Despite the fact we do not know yet which political party will win, I am sure our party will."
Riding at the head of a motorcade of tens of thousands of his supporters, Hun Sen waved to crowds and addressed them through loudspeakers as the convoy made the rounds in Phnom Penh.
Hun Sen and some of his top ministers have frequently used strong rhetoric leading up to the elections, warning of dire consequences should the opposition win, in what has been seen as an attempt to intimidate voters into supporting him.
This week, Amnesty International accused the Cambodian government of using its grip on the judiciary system to intimidate human rights defenders and political activists.
It said in a report that since the 2013 general election, Hun Sen's government has used the courts as a tool to imprison at least 27 prominent opposition officials, human rights defenders and land activists, as well as hundreds of others facing legal cases.
The US Department of State on Wednesday said the US was urging the Cambodian government to "guarantee a political space free from threats or intimidation" and respect freedom of expression for all its citizens.
In the last communal elections in 2012, Hun Sen's party received 60 percent of the vote, compared with the Cambodia National Rescue Party's 30.6 percent.
Comments will be moderated. Keep comments relevant to the article. Remarks containing abusive and obscene language, personal attacks of any kind or promotion will be removed and the user banned. Final decision will be at the discretion of the Taipei Times.