'Ganja Queen' Corby back in Brisbane
FORWARD PLANNING: Schapelle Corby and her sister Mercedes deployed multiple vehicle convoys in a bid to confuse waiting journalists as they left Brisbane Airport
Australian Schapelle Corby yesterday battled a media storm as she returned home from Bali 12 years after her conviction for drug trafficking, in a dramatic end to a saga that captivated her homeland.
The beauty-school dropout hit Australian headlines when she was arrested in 2004 at Bali airport aged 27 with several kilograms of hashish stashed in her surfing gear and was jailed the following year for 20 years.
Her sentence was cut due to regular remissions and after an appeal to the Indonesian president. She served nine years behind bars. She was released early in 2014, but was required to remain on Bali for three years under the conditions of her parole.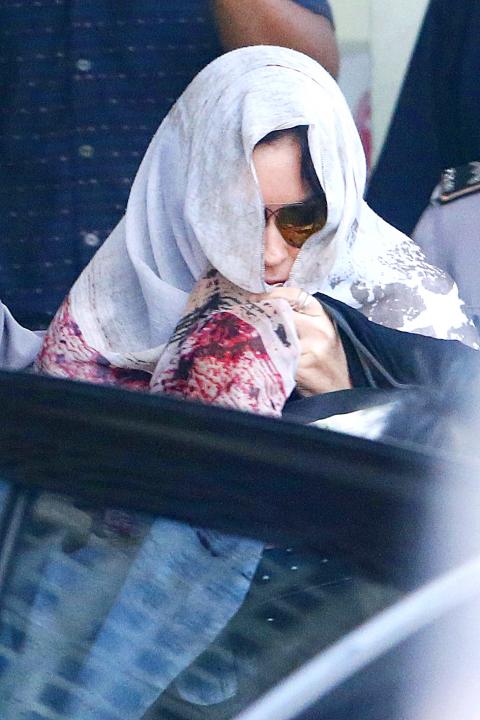 Schapelle Corby on Saturday leaves a parole office in Denpasar, Bali, Indonesia.
Photo: EPA
Corby and her sister, Mercedes, concocted an elaborate plan to avoid the cameras after they touched down in Brisbane early yesterday morning, using multiple vehicle convoys to confuse the media when they departed the airport.
A member of her security team, Eleanor Whitman, read out a family statement at the airport, where they expressed their "gratefulness and relief that this morning we mark Schapelle Corby's return to Australia."
"We would like to say thank you to Schapelle's supporters for all the faith, love and support they have shown over the years … priority of focus will now be on healing and moving forward," she said.
Corby, 39, has maintained her innocence, insisting the drugs were planted.
Her final day on Bali was a blaze of media attention, as she was hustled out of a villa with her face hidden under a scarf and chased by a huge pack of journalists before boarding a flight home.
She managed to outsmart the media by heading back to Brisbane on a different flight than had been widely expected, apparently to avoid traveling with a large contingent of reporters.
Shortly after landing in Australia, live television broadcasts followed one of the vehicle convoys believed to be carrying Corby and Mercedes.
It was not clear where Corby was headed, with media camped out outside her mother Rosleigh Rose's home in Loganlea, south of Brisbane.
In bizarre scenes, her sister, other family members and friends — two wearing ghoulish masks — gathered at the house, while further south at Mercedes' home on the Gold Coast, reporters waiting outside said a Corby-lookalike had turned up.
The intense media coverage had been expected by Corby's mother, who last week said she was worried about how her daughter would adjust to living in Australia amid the frenzy.
Indonesian media outlets dubbed Corby "The Ganja Queen" and she received little sympathy from the public, who largely support the country's tough anti-drugs laws.
Corby was quick to join social media, with her Instagram account attracting more than 100,000 followers by yesterday afternoon just two days after it was set up.
"Good bye to this parole paperwork," she said on Instagram after she visited government offices to fill out documents before heading to the airport.
Comments will be moderated. Keep comments relevant to the article. Remarks containing abusive and obscene language, personal attacks of any kind or promotion will be removed and the user banned. Final decision will be at the discretion of the Taipei Times.