AfD leader Alice Weidel loses 'Nazi bitch' lawsuit
A German court on Wednesday rejected a request by a leader of the nationalist Alternative for Germany (AfD) party for an interim injunction against the reairing of a television program in which the moderator called her a "Nazi bitch."
The Hamburg District Court ruled that satire was secured by the right to freedom of expression and, as a public figure, senior AfD member Alice Weidel must "put up with exaggerated criticism."
The broadcaster NDR's extra 3 satire program on April 27 aired a section of Weidel's speech to her party congress a week earlier in which she had railed against political correctness.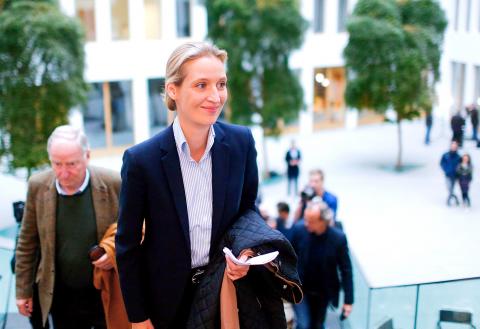 Alice Weidel, right, of the Alternative for Germany party arrives for a meeting in Berlin, Germany, on Monday last week after the Schleswig-Holstein state elections.
Photo: Reuters
"It can no longer be that people who draw attention to problems in our country are dealt with more severely than the problems themselves," Weidel told an AfD Congress at which she was named the party's joint lead candidate for a national election on Sept. 24. "And we as democrats and patriots will not be silenced. Because political correctness belongs to the dustbin of history."
After this sequence of her speech, the program's moderator says: "That's right. Let's put an end to political correctness. The Nazi bitch is right. Was this incorrect enough? I hope so."
"The viewer understands the term 'Nazi' as an exaggeration that relates to the plaintiff's election as lead candidate of the AfD and is not led to believe that the plaintiff supports Nazi ideology," the district court said in a statement.
The court said Weidel's claim that the word "bitch" always has a sexual connotation was doubtful. It said the word was used in connection with her call to end political correctness.
The AfD is expected to enter the Bundestag lower house for the first time after September's election. It is polling at about 8 percent as infighting and a drop in refugee arrivals have led to a drop in support.
An AfD spokesman said Weidel's lawyers had appealed to the Hamburg Higher Regional Court.
Comments will be moderated. Keep comments relevant to the article. Remarks containing abusive and obscene language, personal attacks of any kind or promotion will be removed and the user banned. Final decision will be at the discretion of the Taipei Times.