Britain's Labour unveils 'radical' election manifesto
Britain's opposition Labour Party yesterday unveiled its manifesto pledging to raise taxes on the well-off, renationalize key industries and end austerity, presenting voters with their starkest choice in decades in next month's election.
Labour Party leader Jeremy Corbyn called the program "radical and responsible," saying the country had been run "for the rich, the elite and the vested interests" in seven years of Conservative government.
"It will change our country," he was to say in his speech at the presentation of the manifesto in Bradford in northwest England, according to extracts released by the party's press office.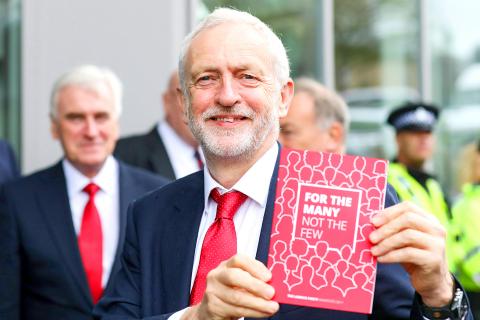 Labour Party leader Jeremy Corbyn arrives, holding a copy of the party's manifesto, to deliver a speech marking its launch in Bradford, England, yesterday.
Photo: Bloomberg
"It will lead us through Brexit, while putting the preservation of jobs first," he said.
The manifesto is expected to include a tax increase from 40 percent to 45 percent for salaries of between £80,000 and £150,0000 (US$103,200 and US$193,478) a year, according to the Times and the Daily Telegraph.
The current 40 percent tax rate applies to people earning between £31,500 and £150,000.
There would also be a new top rate of income tax of 50 percent, the reports said.
Labour has said the rise would fund increased investment in the state-run National Health Service and would only affect 5 percent of earners.
The Guardian reported that the party was also planning a levy on businesses with staff earning large salaries, set at 2.5 percent on those earning more than £330,000 and 5 percent on those earning more than £500,000.
Labour will also promise to renationalize the railways, the Royal Mail postal service and water companies, according to various reports.
Labour has also promised it will increase the corporate tax to 26 percent by 2022 and impose a "Robin Hood tax" on financial transactions.
"It's a program that will reverse our national priorities to put the interests of the many first," Corbyn was expected to say.
"This is a program of hope. The Tory campaign, by contrast, is built on one word: fear," he was to say.
British Prime Minister Theresa May's Conservatives immediately slammed the plan as "nonsensical" and not properly costed.
"It's ordinary working people who will pay for the chaos of Corbyn," British Chief Secretary to the Treasury David Gauke said in a statement.
The Conservatives currently have a double-digit percentage lead over Labour in opinion polls.
Comments will be moderated. Keep comments relevant to the article. Remarks containing abusive and obscene language, personal attacks of any kind or promotion will be removed and the user banned. Final decision will be at the discretion of the Taipei Times.