Venezuelans ready 'Poopootov cocktails'
Venezuela's opposition protests yesterday were due to be the messiest in a six-week wave of unrest as demonstrators prepared to throw feces at security forces, adding to the customary rocks, gasoline bombs and tear gas.
The new tactic has been dubbed the "Poopootov" in a play on the Molotov cocktails often seen at streets protests in Venezuela.
"They have gas; we have excrement," reads an image floating around social media to advertise yesterday's "Shit March."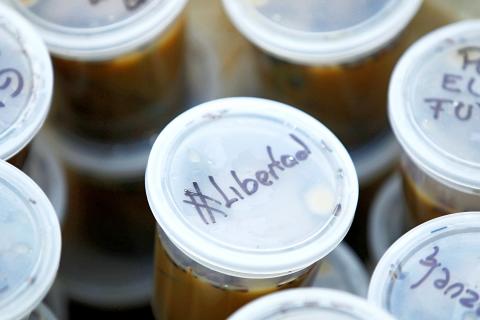 Plastic pots filled with feces known as "Poopootovs" are pictured In Caracas, Venezuela, on Tuesday.
Photo: Reuters
With inflation in the high triple-digits, shortages of the most basic medicines and millions suffering food scarcity, the country is undergoing a major crisis.
For weeks, hundreds of thousands of people have taken to the streets, angry at the Venezuelan President Nicolas Maduro's administration.
Some opposition sympathizers are appalled at the plans to use feces, both animal and human, calling it an unsanitary and inappropriate tactic even in the face of a government they despise.
Many note that throwing feces could increase cases of infectious diseases which are soaring due to the lack of medicine as well as basic cleaning materials such as soaps and disinfectant.
"The kids go out with just stones. That's their weapon. Now they have another weapon — excrement," said a 51-year-old dentist preparing containers of feces in her home for protesters to launch at authorities.
"One of my patients is collecting excrement from her child," the dentist said, who asked not to be identified.
Messages have been going viral on Venezuelan WhatsApp groups giving step-by-step instructions and advice on putting together the Poopootov cocktails.
Some insist on avoiding glass containers to ensure that the projectiles only humiliate troops rather than injure them.
"The use of excrement is not only an act of desperation, it's madness," pro-government TV personality Mario Silva said on Twitter.
With opposition leaders looking to bring frontline government forces onside, given they too suffer from the country's crisis, the strategy might backfire.
Many are thought to sympathize with protesters' complaints about the economic situation, but do not speak out for fear of retaliation by authorities.
While the opposition coalition has remained quiet on the strategy, some lawmakers have given it tacit acceptance.
"They use their weapons against us, so people are using what they have," said lawmaker Rafael Guzman, who on Monday was seen in the thick of tear gas throwing a canister back at security forces.
Comments will be moderated. Keep comments relevant to the article. Remarks containing abusive and obscene language, personal attacks of any kind or promotion will be removed and the user banned. Final decision will be at the discretion of the Taipei Times.