Eastern Canada set for more flooding
EVACUATIONS ORDERED: Montreal and eight other localities have declared states of emergency while Quebec's premier said that the worst is yet to come
With heavy rains persisting and waters still rising over much of waterlogged eastern Canada, the nation's military on Sunday tripled the number of troops urgently working to evacuate thousands of residents.
Montreal Mayor Denis Coderre declared a state of emergency for his city, allowing authorities to order mandatory evacuations from threatened areas.
"The next 48 hours will be decisive," Coderre told reporters.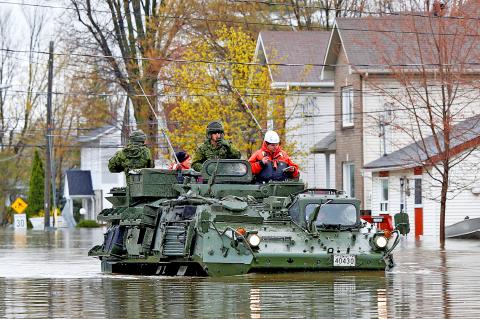 Canadian soldiers inspect a flooded residential area in Gatineau, Quebec, on Sunday.
Photo: Reuters
Evacuations were ordered in Pierrefonds, on the northwestern shore of the island of Montreal, after three temporary dikes ruptured, sending water levels surging.
A combination of torrential rains and runoff from melting snow has caused rivers to overflow their banks from Ottawa to Montreal, posing critical challenges for people already exhausted by weeks of seemingly unending rainfall.
More than 1,000 people have been evacuated in Quebec Province, the largest number coming from Gatineau, near Ottawa, the province's emergency response unit said on Sunday.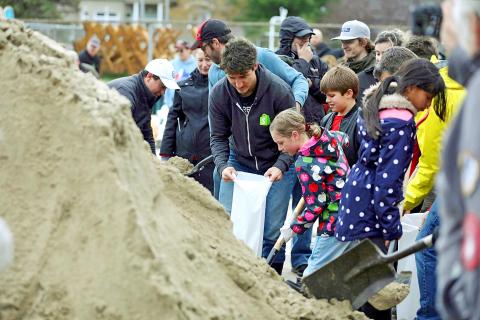 Canadian Prime Minister Justin Trudeau, center, on Sunday helps fill sandbags during a visit to Terrasse-Vaudreuil, Quebec.
Photo: Reuters / Prime Minister's Office
More than 2,000 homes have been flooded and 140 towns and cities affected, with authorities urging residents to evacuate before it is too late.
In addition to Montreal, eight localities have declared states of emergency.
However, Quebec Premier Philippe Couillard warned the worst was yet to come.
"The water will continue rising over the next two or three days," he said on Saturday after visiting the town of Rigaud, west of Montreal, which has been flooded for more than a week.
Water levels were rising across much of an area of about 500km, from Toronto and Lake Ontario and stretching downstream along the St Lawrence River.
The Canadian Ministry of Public Safety said waters were expected to crest yesterday in Quebec Province.
About 450 troops had been dispatched by Saturday to help put sandbags in place and assist with evacuations, but that number was set to triple by the end of Sunday, including 500 in the immediate Montreal region, 400 in the area between Gatineau and Rigaud to the west, and more than 500 in the Trois-Rivieres region northeast of Montreal, Lieutenant Colonel Pascal Larose said.
Their tasks included evacuating residents, reinforcing dikes and protecting critical infrastructure such as water treatment plants and bridges, the Canadian Ministry of Defense said.
Canadian Prime Minister Justin Trudeau on Sunday visited Terrasse-Vaudreuil, about 40km west of Montreal, to survey damage, a spokesman said.
Environment Canada warned that "the ground, already near saturation, has little ability to absorb further rainfall… Even shallow, fast-moving water across a road can sweep a vehicle or a person away. Don't approach washouts near rivers, creeks and culverts."
Pierrefonds resident Robert Robillard had yet to evacuate by Sunday, despite the 10cm to 15cm of water in his basement.
"I haven't seen anything like this since 1974," he said, adding that the area now is much more crowded and thus vulnerable.
Rigaud Mayor Hans Gruenwald ordered the mandatory evacuation of some 100 homes.
After three weeks of flooding, "our people no longer have the physical capacity or the morale, so I took the initiative to evacuate them," he told the LCN network.
School gymnasiums and other public buildings throughout the area have opened their doors to evacuees.
"I understand people are reluctant to leave their homes," Couillard said, "but if you're asked, do it for your own safety."
Meanwhile, in British Columbia, the same combination of rain and snowmelt has caused flooding and mudslides that left at least two people missing, including the fire chief of Cache Creek village, who had been out checking water levels.
A 76-year-old man was missing after a mudslide on Saturday swept away his home in the community of Tappen, the Canadian Broadcasting Corp reported.
"It sounded like a freight train coming down the mountain," Tappen-Sunnybrae Fire Department Chief Kyle Schneider told the national broadcaster.
Comments will be moderated. Keep comments relevant to the article. Remarks containing abusive and obscene language, personal attacks of any kind or promotion will be removed and the user banned. Final decision will be at the discretion of the Taipei Times.