Muslim candidate leading in Jakarta's governor race
TEST OF TOLERANCE: A quick sample count showed Anies Baswedan ahead with 58% versus his Christian rival's 42%. The official result is to be announced in May
A former Indonesian education minister yesterday took a commanding lead in the race for Jakarta governor after a polarizing campaign that cast a shadow over the nation's reputation for practicing a tolerant form of Islam.
Anies Baswedan was ahead with 58 percent of the votes versus 42 percent for Jakarta Governor Basuki Tjahaja Purnama, known as "Ahok," based on a quick sample count of more than half the vote by Indikator Politik. Other pollsters showed similar results.
The national elections commission is to announce the official results early next month.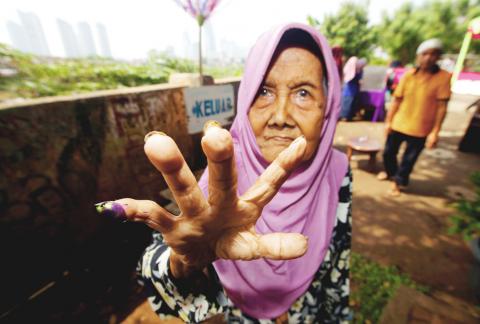 A woman shows her ink-stained finger after casting her vote during the second round of regional elections in Jakarta, Indonesia, yesterday.
Photo: EPA
Baswedan's huge lead was surprising since opinion polls in the run-up to the election had pointed to a dead-heat. Purnama won the first round of voting for governor in February in a three-way race.
Indonesian social media users likened the election outcome to the shock results of the US presidential vote and the Brexit vote of last year.
One Twitter user, @fuadhn, said Indonesians "can feel what US and British citizens feel now. Welcome populism..."
The election came on the eve of a visit by US Vice President Mike Pence, as the US administration seeks to engage the world's fourth-largest nation and largest Muslim-majority country as an emerging regional power.
Pence is scheduled today to visit the biggest mosque in Southeast Asia, Jakarta's Istiqlal Mosque.
The Jakarta election will be seen as a barometer for the 2019 presidential election, given the city's outsized importance as the nation's capital and commercial center.
Purnama is backed by Indonesian President Joko Widodo's ruling party. Baswedan is supported by a retired general, Prabowo Subianto, who narrowly lost to Widodo in a 2014 presidential vote and is expected to challenge him again.
However, the election is also viewed as a test for Indonesia's young democracy and record of religious tolerance.
The campaign featured mass rallies led by a hardline Muslim movement, which has strengthened in recent years in a country long dominated by a moderate form of Islam.
More than 80 percent of the Indonesian population is Muslim.
"Going forward, the politics of religion is going to be a potent force," said Keith Loveard, an analyst at Jakarta-based Concord Consulting and an author of books about Indonesian politics.
Some voters may have been reluctant to vote for Purnama because of worries about "five more years of protests on the streets by Muslim hardliners," Loveard said in a telephone interview.
Police said 15 people were detained following reports of disturbances at several polling stations in the city of 10 million people, after what the Jakarta Post this week dubbed "the dirtiest, most polarizing and most divisive" election campaign the nation had ever seen.
Security appeared light at several polling stations, though police said 66,000 personnel were deployed across the city.
Religious tensions have been an undercurrent in the campaign, with Purnama on trial for blasphemy over comments he made last year that many took to be insulting to Islam.
Hundreds of thousands of Muslims took to the streets late last year to call for his sacking and to urge voters not to re-elect a non-Muslim leader. One person died and more than 100 were injured after one protest turned violent.
Baswedan, a respected academic who many viewed as moderate, drew widespread criticism during the campaign when he aggressively courted the conservative Muslim vote, appearing publicly with hardline Islamic leaders during anti-Purnama rallies.
Baswedan, surrounded by his political patrons, including Prabowo, struck a reconciliatory tone at a news conference after unofficial results came in, pledging to "safeguard diversity and unity."
Purnama faces up to five years in jail if convicted of blasphemy. His trial is to resume today, when prosecutors are to submit a sentence request.
Comments will be moderated. Keep comments relevant to the article. Remarks containing abusive and obscene language, personal attacks of any kind or promotion will be removed and the user banned. Final decision will be at the discretion of the Taipei Times.