Bangkok to ban street food stalls in cleanup crusade
Street food stalls will be banned from all of Bangkok's main roads in a sweeping cleanup crusade, a city hall official said yesterday, prompting outcry and anguish in a food-obsessed capital famed for its spicy roadside cuisine.
For months city officials have hemmed in hawkers of all kinds across the metropolis, where hitting the pavement for everything from late-night noodles to fried insects is the closest Thailand has to a national pastime.
"All types of stalls, including clothes, counterfeit goods and food stalls, will be banned from main city roads," said Wanlop Suwandee, a chief adviser to Bangkok's governor.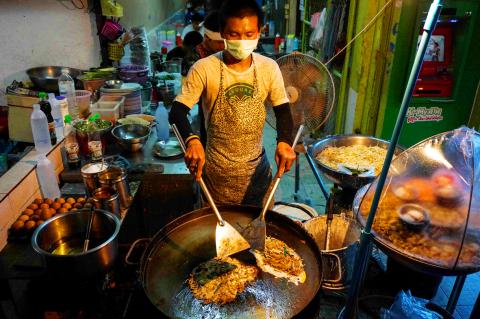 A man cooks food at a street stall in Bangkok's Phrakanong District on Monday.
Photo: AFP
"They will not be allowed for order and hygiene reasons," he said, justifying the ongoing crackdown after complaints from the public.
Officials say nearly two-thirds of the city's 30,000 street vendors of all kinds have already been removed or relocated for clogging the pavements, leaving little space for pedestrians and aggravating traffic.
"I don't think there will be any stalls on major roads... We have nullified their permission" to operate, he said, without giving a deadline for the sellers to clear out.
Yet many Bangkok residents say this curbside chaos is part of the capital's charm and an affordable food option for all in a city where other costs of living are surging — a stick of grilled pork goes for 10 baht (US$0.30), while a bowl of chicken noodles costs as little as 35 baht.
"If you want to clean out all the vendors it's like you are cleaning out our culture itself," said Chiwan Suwannapak, who works for a Bangkok tour agency.
"You can see the people who cook, you can interact with them... You can see what the ingredients are," she added.
Street dining is also a social leveller in a city cut by inequality, with everyone from business executives to motorcycle taxi drivers pulling up plastic chairs to slurp down spicy soups or dig into fried chicken as cars tear by.
The rich variety of foods ladled out from the push carts is also a major draw for tourists, who power a vital sector of the kingdom's economy. Bangkok is a fixture on established international lists for street cuisine and curious tourists are easily found picking through areas renowned for their street treats.
"If they go against the vendors, that will affect business and it will affect the charm of Khaosan Road," said Sanga Ruangwattanaku, president of a business association in the backpacker hotspot in Bangkok's old town.
Since seizing power in 2014, Thailand's junta has embarked on a widespread morality and orderliness campaign, seeking to corral a kingdom where many revel in a spirit of flexibility, convenience and organized chaos.
Critics say an attempt is under way to remodel Bangkok into a Singapore-lite, enforcing regulations that have long been abandoned or skirted around by a rampant culture of bribery.
Many quietly hope the beautification campaign will fall flat — with the push of the horde of hungry customers who prefer a quick streetside chow down to organized food courts outweighing the city hall drive.
However, for now, the city hall edict has sent a shudder of dread through Bangkok's thousands of food vendors.
Jurai Saisuthiwong, 61, who sells fried bananas on Thonglor — a main drag in Bangkok's most upmarket area — said the poor would suffer most from the cleanup.
"Authorities won't listen to us. They just want the city to be beautiful... they will not think about the poor and how this affects us," she said.
Comments will be moderated. Keep comments relevant to the article. Remarks containing abusive and obscene language, personal attacks of any kind or promotion will be removed and the user banned. Final decision will be at the discretion of the Taipei Times.