Thousands evacuated in New Zealand amid floods
'GET OUT AND STAY OUT': New Zealand authorities warned against returning amid landslide danger, while Australia's Rockhampton experienced serious flooding
Rescue workers used tractors and boats to evacuate thousands of people at the top of New Zealand's North Island yesterday as flood waters from ex-cyclone Debbie surged in what meteorologists said was an event seen once every 500 years.
Effects of the former category 4 storm — one level shy of the most powerful category 5 — were also still being felt in Australia more than a week after the cyclone pounded Australia's Queensland State and flooded the town of Rockhampton.
Scores of roads were closed or blocked by landslides across New Zealand's North Island following two days of heavy rainfall caused by Debbie's tailwind.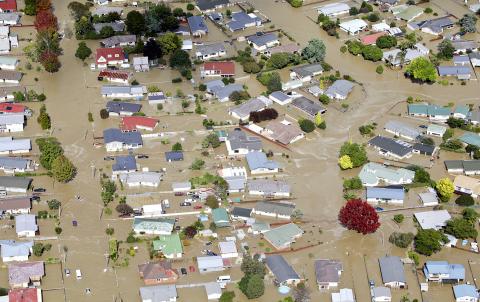 Houses are surrounded by floodwaters yesterday in the North Island town of Edgecumbe in New Zealand.
Photo: AP/The Bay of Plenty Times
No deaths have been reported in New Zealand, but authorities continued to search for a man reported missing in a swollen river.
"There's still a risk of loss of life," New Zealand Deputy Prime Minister Paula Bennett told reporters in Wellington.
"Under no circumstances should people be looking at going back at the moment," she said. "The message must be really clear to people right now: Get out and stay out."
Some areas of the North Island received a month's worth of rain in less than a day.
Wellington and Auckland suffered flooding, power cuts and landslides amid an unrelenting downpour.
However, the worst-hit area was the rural Bay of Plenty, where the 1,600-strong population of Edgecumbe was evacuated when a levee failed and the township's main river burst its banks.
Edgecumbe Mayor Tony Bonne said the emergency developed quickly, with a policeman running to warn townsfolk to flee when he saw the river bank was about to collapse.
"[A resident] was driving his vehicle out and looked in his rear-vision mirror and saw a wall of water going towards his home," Bonne told Radio New Zealand.
New Zealand's mountainous terrain makes its roads susceptible to landslides and many regions are still recovering from a magnitude 7.8 earthquake in November last year.
Kaikoura, the coastal holiday town at the epicenter of the quake, was shut off from the rest of the country for the second time in six months as connecting roads were again hit by landslides.
In Australia, where the deluge was still flowing through tropical river systems, water levels peaked in Rockhampton at lunchtime yesterday, flooding main streets, shops and homes.
Residents rowed boats along roads and muddy water covered the airport's runway.
Authorities said the airport would be closed for six days and the water is not expected to recede until the weekend.
The Australian disaster zone stretched 1,000km from Queensland's tropical resort islands and the Gold Coast tourist strip to the farmlands of New South Wales State.
Australian insurers have declared the event a catastrophe likely to cost more than A$1 billion (US$755.2 million), with state officials saying recovery and repairs would take months.
"The flooding has been worse than we anticipated," Insurance Australia Group chief executive officer Peter Harmer said yesterday at a business conference in Sydney. "The cyclone impact itself was less than anticipated."
Harmer said the firm was using drones to compile early assessments of the damage which he expected to total "in excess of A$1 billion."
Additional reporting by AFP
Comments will be moderated. Keep comments relevant to the article. Remarks containing abusive and obscene language, personal attacks of any kind or promotion will be removed and the user banned. Final decision will be at the discretion of the Taipei Times.