Harrison Ford says distracted when he flew over airplane
Actor Harrison Ford said he was distracted and concerned about turbulence from another aircraft last month when he mistakenly landed on a taxiway at a southern California airport after flying low over an airliner with 116 people aboard, according to an audio recording released on Friday.
"I'm the schmuck who landed on the taxiway," Ford told an air traffic controller shortly after the near-miss on Feb. 13 at John Wayne Airport in Orange County.
Recordings of Ford's conversations with air traffic controllers were released on Friday by the US Federal Aviation Administration.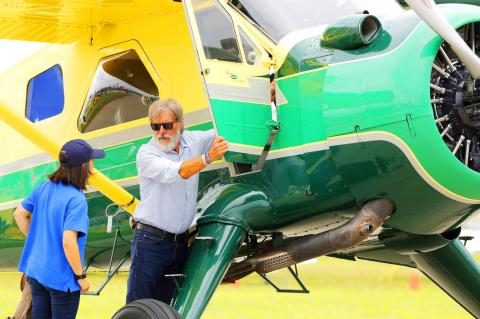 Harrison Ford opens the door of his aircraft for a passenger at an air show in Oshkosh, Wisconsin, on July 28 last year.
Photo: AP
The 74-year-old actor was told to land his single-engine plane on Runway 20L, but he instead landed on a parallel taxiway. An American Airlines flight was on the same taxiway, waiting to take off.
A video released last month showed Ford's Aviat Husky airplane from behind as it descends toward the airfield where the American Airlines Boeing 737 is slowly taxiing.
"Was that airliner meant to be underneath me?" Ford asked the air traffic control tower as he landed in the wrong spot.
"Oh. I landed on Taxiway Charlie. I understand now. Sorry for that," Ford said.
In a telephone call with an air traffic controller after the incident, Ford said he "got distracted by the airliner" and also mentioned "big turbulence" from another airplane that was landing.
The American Airlines flight, with 110 passengers and six crew members, departed safely for Dallas a few minutes later.
When an air traffic controller told Ford to take his time getting the number from his pilot's license, remarking it was not a big deal, Ford said: "It's a big deal for me."
After Ford told the employee his name, the man seemed taken aback and assured Ford he would not share his telephone number with anyone.
Landing on a taxiway, instead of a runway, is a violation of federal regulations.
The agency's probe of the incident is still under way, spokesman Ian Gregor said on Friday.
Ford, who collects vintage airplanes, has a long record as an aviator. He has had several close calls and a serious accident.
Comments will be moderated. Keep comments relevant to the article. Remarks containing abusive and obscene language, personal attacks of any kind or promotion will be removed and the user banned. Final decision will be at the discretion of the Taipei Times.