'Sewol' recovery to heal or harden S Korea's rift
INTERNET ASWIRL: Many grieving family members believe ex-president Park Geun-hye's government was trying to cover up deeper causes of the ferry's sinking
Days after former South Korean president Park Geun-hye was removed from office, a ferry was lifted slowly from the waters where it sank three years earlier — a disaster that killed more than 300 people, mostly schoolchildren, and ignited public fury against Park and became a nationally polarizing issue.
The ferry's recovery has raised the question of whether that process can bring closure to a country that was roiled and split by the ferry sinking. The quick answer would be: "Not completely." The ship's recovery is now political fodder ahead of a May election to choose a new president.
What many South Koreans want to know is whether the bodies of the nine missing victims are inside the hoisted Sewol wreckage and whether fresh causes of the sinking can be found.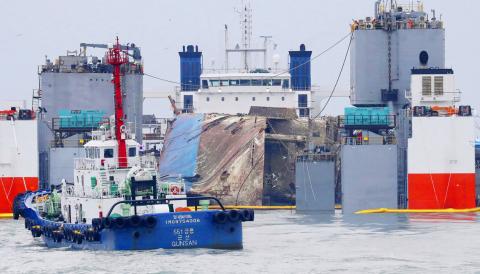 The ferry Sewol is loaded onto a semi-submersible transport vessel yesterday during a salvage operation in waters off Jindo, South Korea.
Photo: AP
Finding the bodies could help ease the pain for families desperate to have back their loved ones' remains, though some critics of the recovery effort say the bodies might have already been swept away. Some relatives went to the scene on boats to watch the salvage work that began on Wednesday.
It is uncertain whether the recovered ship will reveal something totally new regarding what happened on the day of the sinking.
After interviewing crew members, shipping regulators and coast guard officers, government investigations already blame the disaster on a mix of factors such as overloaded cargo, improper storage, poor rescue efforts, negligence by crew members and corruption by the ship's owners.
However, many grieving family members and their liberal supporters believe the conservative Park government was trying to cover up deeper causes of the sinking amid unconfirmed rumors swirling on South Korean Internet sites.
One rumor speculates the ferry collided with a submarine, while another alleges the Sewol was overloaded with reinforcing bar to be used for the contentious construction of a naval base in Jeju Province.
In 2010, a conservative-led government hoisted a sunken South Korean warship and blamed North Korea for torpedoing it near their disputed sea boundary. Many liberals did not believe it and similar unconfirmed rumors flared. Some liberals cited a history of fabrication of evidence by past conservative, authoritarian governments including one headed by Park's dictator father.
Bereaved families of the Sewol victims and liberal activists have been camping at a main Seoul boulevard near Park's office for more than two years, calling for a stronger investigation into the disaster and for higher-level officials to be held accountable.
Park's supporters have accused them of politicizing the issue and opposed the use of taxpayers' money to salvage a civilian ship. Some ultra-conservative citizens even made a display of eating fried chicken and pizza in front of the victims' relatives who were hunger striking at the boulevard.
As the Sewol was being raised from waters, South Korean liberals escalated political offensive against Park, who was removed by a March 10 court ruling over a separate corruption scandal.
"While looking at the salvaging works and the Sewol surfacing for the first time in 1,073 days, which was conducted swiftly after Park's ouster, many people have resentments and questions on the incompetent, irresponsible government," said Lee Jae-jung, a spokesman for the main liberal opposition Democratic Party.
Comments will be moderated. Keep comments relevant to the article. Remarks containing abusive and obscene language, personal attacks of any kind or promotion will be removed and the user banned. Final decision will be at the discretion of the Taipei Times.