Australia to see more extreme summers: council
Climate change was responsible for breaking more than 200 Australian weather records over the past three months, researchers said yesterday.
Much of Australia's east coast endured its hottest summer on record, the independent Climate Council said, while torrential rain in Western Australia caused flash flooding.
The sort of unseasonable conditions seen between Dec. 1 and Feb. 28 would likely be recurring regularly in the future, the council said.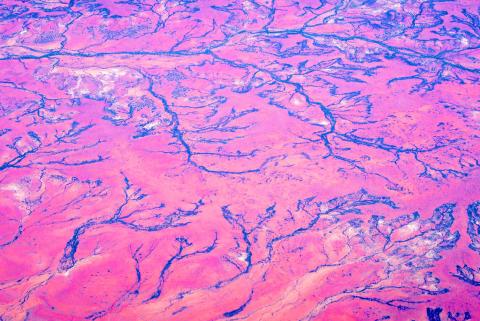 Dried-up rivers and creeks are pictured in Queensland near the town of Mount Isa, Australia, on Feb. 12.
Photo: Reuters
"I would say by 2025 or 2030, the odds are we will see another hot summer record set in Sydney and in other places," said Will Steffen, an Australian National University professor of environmental studies and lead author of the Climate Council report.
The expected climate will strain the country's energy sector, the council said, threatening yet more blackouts.
Australia saw several power outages in different parts of the country after temperatures soared regularly above 40°C, with demand for air-conditioning straining supplies.
Australia's climate also threatens one of the main pillars of its economy, with agricultural production vulnerable.
"A really bad year can just demolish crop yields," said Phin Ziebell, an agribusiness economist with National Australia Bank.
Australia exported A$50 billion (US$37.98 billion) worth of agricultural produce last year, government data showed, which helped soften the blow of a slowdown in its dominant mining sector.
The Climate Council report came days after another independent report warned that climate change had caused permanent damage to Australia's environment.
Australian scientists said mass coral bleaching has destroyed at least 35 percent of the northern and central Great Barrier Reef.
Comments will be moderated. Keep comments relevant to the article. Remarks containing abusive and obscene language, personal attacks of any kind or promotion will be removed and the user banned. Final decision will be at the discretion of the Taipei Times.