China proposes US-N Korea suspension
HEAD-ON: China floated a reciprocal suspension deal in 2015, but the US dismissed the offer, saying that its drills are not the same as N Korea's breach of UN resolutions
The Chinese Minster of Foreign Affairs yesterday said that North Korea could suspend its nuclear and missile activities in exchange for a halt in joint US-South Korea military drills, in an unusually public proposal that analysts said showed Beijing's growing alarm over the tensions.
Chinese Minster of Foreign Affairs Wang Yi (王毅) said frictions between North Korea and Washington and Seoul were like "two accelerating trains" headed at each other, with neither side willing to give way.
"The question is: Are the two sides really ready for a head-on collision?" Wang said. "Our priority now is to flash the red light and apply the brakes on both trains."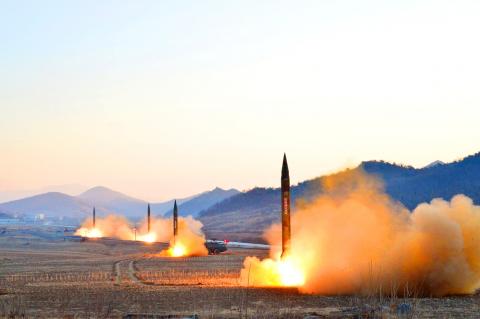 The Korean People's Army Strategic Rocket Forces are seen launching Hwasong-5 surface-to-air missiles during drills at an unknown location in North Korea in an undated photograph.
Photo: Reuters
Wang said China has proposed that as a first step to defusing the looming crisis, North Korea might halt its nuclear program development and missile testing if the US and South Korea suspended their military drills.
"This suspension-for-suspension can help us break out of the security dilemma and bring the parties back to the negotiating table," Wang said, describing the approach as trying to address all parties' concerns in a "synchronized and reciprocal" manner.
North Korea first floated the proposal in 2015, but it was swiftly dismissed by Washington and Seoul, who said the two issues are unrelated. Their view is that North Korea's nuclear and missile program is in violation of UN resolutions, whereas the joint US-South Korea drills are a long-standing practice, analysts said.
Chinese academics said Beijing has privately discussed this proposal with the countries involved, but Wang's move to make it public could be a sign that China plans to take a more aggressive approach to the issue to prevent it from spinning out of control.
"China is becoming an utterly important victim of the turbulent situation on the Korean Peninsula, therefore it has unprecedentedly expressed its views in public," a Jilin University international relations expert said.
China has been increasing pressure on North Korea, its once-close Communist ally, to give up its nuclear and ballistic missile programs. Last month, Beijing suspended all coal imports from North Korea for the rest of the year, a move that deprives North Korea of an important source of foreign currency. Beijing wants the US in return to restart long-stalled negotiations with North Korea.
Wang's move to publicize Beijing's proposal could also be directed at Washington ahead of US Secretary of State Rex Tillerson's visit to China later this month.
A White House official downplayed Wang's suggestion, saying China has made similar proposals in the past. The official was not authorized to discuss the policy publicly and spoke on condition of anonymity.
The South Korean government had no immediate response to Wang's comments yesterday.
Wang likely renewed the dual suspension proposal in the hope that US President Donald Trump might see it as an alternative approach, said John Delury, a North Korea expert at Yonsei University's Graduate School of International Studies in Seoul.
Comments will be moderated. Keep comments relevant to the article. Remarks containing abusive and obscene language, personal attacks of any kind or promotion will be removed and the user banned. Final decision will be at the discretion of the Taipei Times.