FEATURE: Belfast street art battles Catholic-Protestant divide
From the art of war to the art of peace: For decades Belfast adorned its walls with huge community murals marking the bloody history of the Northern Irish conflict.
However, the murals springing up across the city center have another aim — helping to erase the Catholic-Protestant divide.
"I grew up in front of these political murals and I thought that my goal was to take the city and make it look completely different," street artist Glenn Molloy, a former DJ, told reporters.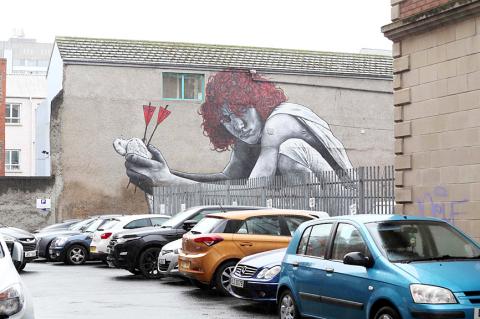 A mural by French street artist MTO, titled The Son of Protagoras, is pictured in Belfast, Northern Ireland, on Feb. 28.
Photo: AFP
Instead of guns, paramilitaries and clenched fists, his murals in the city center feature portraits of celebrities like Jack Nicholson, Bruce Lee and David Bowie.
"I wanted to give something positive, bright, cheerful, something that the people could relate to, rather than to be oppressed," said Molloy, who is also well-known for painting portraits of the city's homeless population.
Painted in black and white — with the contours of their faces defined in red — his portraits have earned Molloy the nickname of "Belfast Banksy," in reference to the famous British street artist.
In the Protestant unionist stronghold of east Belfast, some buildings' facades hark back to the violence that reigned in the British-ruled province from 1969 to 1998.
"We seek nothing but the elementary right implanted in every man: the right, if you are attacked, to defend yourself," is written on the facade of a local pub.
A 10m-high painting depicting two paramilitaries wearing balaclavas and armed with a machine gun is right next to the quote.
The intimidating theme can be found on other murals several kilometers away in the former north Belfast bastions of the Irish Republican Army.
"I don't care if I fall as long as someone else picks up my gun and keeps on shooting" — a quote attributed to guerrilla icon Che Guevara — can be read on a wall next to two bloody clenched fists.
Across the city, in both Catholic and Protestant neighborhoods, the colorful murals helped to demarcate territories.
However, in the city center a motley array of colorful and non-political murals has for the past few years given Belfast a new face.
One shows a car driving through the night, another enormous work depicts a bearded cook with a lobster. Further down, a young melancholic girl is painted in blue.
Overall, more than 100 pieces of street art have been created by artists from Britain, Ireland and the rest of Europe.
Adam Turkington began the movement with a street art festival he created five years ago called "Hit the North."
"Being non-political in Northern Ireland is being political. Defending aesthetics, beauty, having fun, making the city look better is a pretty powerful message," he said.
"In Belfast, art and especially street art echoes the silent majority, those who are not voting because they are fed up," and "the tyranny of a tiny minority" obsessed by divisions and religion, he said.
Although the majority of these murals have no particular message, mysterious French artist MTO in 2014 painted one of the most political pieces on display.
The Son of Protagoras shows a squatting child holding a dove killed by two arrows. One is Catholic, the other Protestant.
"Protagoras is the father of agnosticism. MTO's message is that religion is ruining this place," Turkington said.
Comments will be moderated. Keep comments relevant to the article. Remarks containing abusive and obscene language, personal attacks of any kind or promotion will be removed and the user banned. Final decision will be at the discretion of the Taipei Times.