Freedoms declining worldwide: US
'MORAL IMPERATIVE': Human Rights Watch questioned US President Donald Trump's commitment to safeguard human rights, citing his policies targeted at Muslims
Basic freedoms of expression and association are on the decline around the world, the US said on Friday in a report that warned of worsening conditions for opposition groups and human rights activists.
In a departure from past practice, US Secretary of State Rex Tillerson declined to announce the report in-person or to speak about it publicly as his predecessors have done.
Human rights groups and some lawmakers decried that decision and said it raised concerns that the US was backing away from its traditionally vocal advocacy on human rights.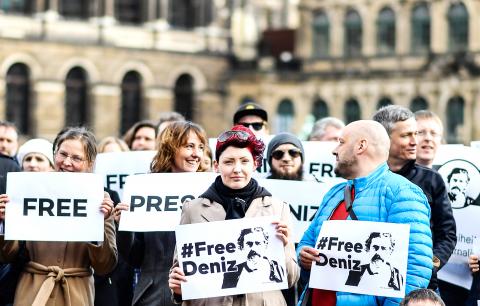 People hold banners reading "Free Deniz" to protest the detention in Turkey of German-Turkish journalist Deniz Yucel, in front of Zwinger palace in Dresden, Germany, on Thursday.
Photo: EPA
Corruption, use of torture and discrimination against minorities have gotten worse in some parts of the world, the report said.
It laid out concerns about sexual abuse of women, growing crackdowns on the media and Internet freedom, suppression of political opposition groups and the inability of people to choose their own governments.
Tillerson, in a letter to the US Congress about the report, did not address any specific human rights concerns, but said promoting rights and democracy is "a core element of US foreign policy."
"These values form an essential foundation of stable, secure and functioning societies," Tillerson wrote. "Standing up for human rights and democracy is not just a moral imperative, but is in the best interests of the United States in making the world more stable and secure."
Yet Human Rights Watch, whose research is cited by the US Department of State in its human rights reports, said the commitment of US President Donald Trump's administration to human rights is already in question due to his policies related to Muslims and his plan to drastically cut the foreign aid budget.
"Tillerson's absence from the State Department's annual human rights report release reinforces the message to governments, rights activists and at-risk minorities that the State Department might also be silent on repression, abuse and exploitation," the group's Washington director Sarah Margon said.
Although the report does not rank or compare countries, its sections on some individual countries indicate areas of the most concern:
THE PHILIPPINES
The report noted a sharp increase in extrajudicial killings in the Philippines — more than 6,000 suspected drug dealers and users killed by police and unknown vigilantes in the second half of last year.
Despite Philippine President Rodrigo Duterte's claim that authorities would investigate actions taken outside the rule of law, the report said there were "significant concerns about impunity" of government and local officials.
TURKEY
The report said that the Turkish government has imprisoned tens of thousands of people accused of supporting last year's failed coup attempt, often without much evidence.
The Turkish government has also suspended some due process protections as part of the state of emergency enacted after the coup and later extended, the report said.
It also detailed concerns about media freedoms and the high number of journalists arrested.
CHINA
"Repression and coercion" of those involved in civil and political rights remains "severe," the report said. It added that tens of thousands of political prisoners remained incarcerated, despite Beijing's denial it holds any.
Other serious human rights abuses included arbitrary or unlawful deprivation of life, executions without due process, illegal detentions at "black jails," torture and coerced confessions of prisoners, and detention and harassment of journalists, lawyers, dissidents and petitioners.
VENEZUELA
The report warned of "systematic, politicized use of the judiciary" to undermine the legislative branch and to intimidate and prosecute critics of the government.
It said "indiscriminate" police action has led to torture and limited press freedoms.
The report also said that the media and other groups have reported extrajudicial killings and torture by police and other security forces.
Comments will be moderated. Keep comments relevant to the article. Remarks containing abusive and obscene language, personal attacks of any kind or promotion will be removed and the user banned. Final decision will be at the discretion of the Taipei Times.