El Salvador investigates hippopotamus killing at zoo
El Salvador's widespread violence reached an unexpected corner with the brutal and fatal beating of the national zoo's hippopotamus Gustavito.
Even among a population numbed by a staggering human death toll due to gang violence in recent years, the animal's death late on Sunday stirred outrage.
Salvadoreans mourned through social media and some left flowers at the gate of the San Salvador zoo, which has been closed until further notice.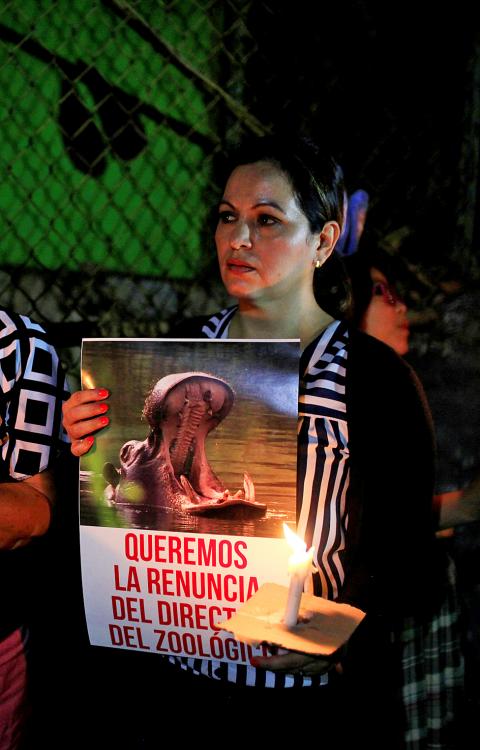 A woman holds a poster at a protest over the death of a hippopotamus at the national zoon in San Salvador on Monday.
Photo: Reuters
"Here we're used to seeing the dead every day," said Martin Castillo, a street vendor in the capital's historic downtown. "They kill us like flies, but this tops it all. They killed an animal that only entertained us."
Zoo director Vladan Henriquez said at a news conference that the hippo was covered with bruises and puncture wounds after apparently being attacked with metal bars, knives and rocks.
The attack occurred last week, sometime on Tuesday night.
However, zookeepers did not discover the hippo's injuries until Thursday because he did not leave his pool.
Gustavito died from the injuries late on Sunday.
Salvadorean Minister of Justice Mauricio Ramirez Landaverde said an investigation had been opened.
El Salvador is one of the world's most violent countries, recording 5,278 homicides last year, or an average of 14 people killed per day. Most of the killings have been blamed on street gangs.
Gustavito was born and raised in Guatemala and was brought to El Salvador 13 years ago.
"We're angry," said Carmen Rogel, who often brings her grandson to the zoo. "We didn't know they had killed Gustavito and were surprised when we arrived and the gate was closed."
Comments will be moderated. Keep comments relevant to the article. Remarks containing abusive and obscene language, personal attacks of any kind or promotion will be removed and the user banned. Final decision will be at the discretion of the Taipei Times.