FEATURE: UN backs vetting as US mulls refugee rules
JORDAN OPERATIONS: A Syrian hairdresser and her daughters hoping to reach Britain said she understands security concerns, but added: 'I don't think I will pose any threat'
In an office cubicle at the UN refugee agency, a Syrian woman and her three daughters took turns staring into a camera for iris scans. Their biometric registration, a first step toward possible resettlement in the West, is to be followed by interviews and background checks that can take months or even years.
The 31-year-old part-time hairdresser, who fled to Jordan in 2014 after her husband went missing in Syria's civil war, feels fortunate. However, the long road ahead for many Syrian refugees could grow even more arduous if US President Donald Trump fulfils campaign vows to impose "extreme vetting."
Many of the 5 million Syrian refugees who scratch out a living in overwhelmed neighboring states such as Jordan are not necessarily candidates for a rare slot in the resettlement program. Priority is given to the most vulnerable, including women heading households, medical patients and people who have been tortured.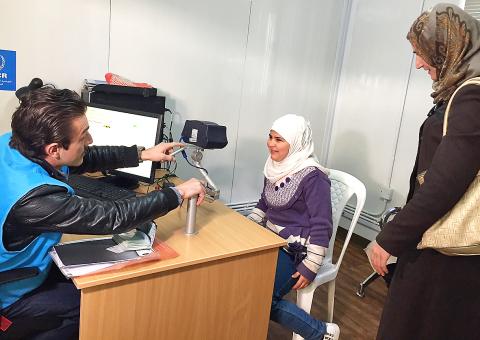 A Syrian refugee girl poses for a biometric iris scan at the UN refugee agency in Amman on Sunday.
Photo: AP
Still, the vetting process has come under intense scrutiny since Trump took office.
A week after his inauguration, Trump suspended refugee admissions, saying that displaced people pose a potential terrorism threat and that his administration needs time to impose more stringent vetting procedures.
A federal judge blocked the order, but Trump has said a new version will be announced soon.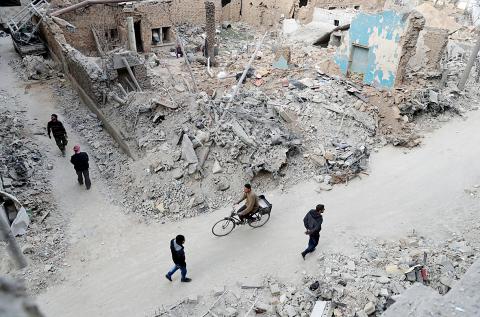 People walk past the rubble of destroyed buildings in Damascus on Monday.
Photo: AFP
US involvement in refugee resettlement is bound to shrink this year, even if a new executive order softens earlier provisions, such as the open-ended ban on the entry of displaced Syrians.
Trump has announced that he is reducing the US limit for taking in refugees from all over the world from 110,000 to 50,000 a year, leaving even fewer spots for refugees from the Middle East.
The US has been a leading resettlement destination, taking in about half of the 20,000 refugees, most of them Syrians, who left to the West from Jordan last year, said Daniela Cicchella, a senior refugee agency official in Jordan.
Cicchella described the vetting as stringent, but said all involved are open to ways of improving it.
The program is "one of the most scrutinized" ways of entering the US, Cicchella said during a tour of the vetting area at the agency headquarters in Jordan's capital.
"We have been working very closely with different countries, including with the US authorities, in the last years," she said.
Trump's initial order asked officials to review the refugee approval process in search of possible security loopholes, but did not say what additional vetting he wants to see.
For now, the process includes in-person interviews during which refugees provide information about families, friendships, social or political activities, employment, telephone numbers and e-mail accounts.
They also provide biometric information, including fingerprints, and federal law enforcement and intelligence agencies are consulted for background checks. Syrians are subject to additional classified checks. Their vetting typically takes two years or more.
Last year, the US Department of Homeland Security said it planned to look more closely at social media postings of people seeking to enter the US.
The Syrian hairdresser said she hoped to move with her daughters, ranging in age from 7 to 13, to Britain, where she has family.
In a small office, a UN staffer logged their details into a computer, including the names and ages of the woman's siblings.
After registration, they were led to another cubicle for an in-depth interview with another UN staffer.
After the first hurdle, there will be more refugee agency interviews and checks by the prospective new host country.
Jordan's security agencies also get involved in clearing refugees for departure.
"I want to leave Jordan and it is a chance to improve my daughters' education levels," said the woman, whose name was withheld at the request of the refugee agency, which cited protection concerns.
She said she understood Western concerns about weeding out potential terrorists, "but I don't think I will pose any threat," she said, adding that she and her daughters "want to live in peace."
Analysts at the Homeland Security Department's intelligence arm have found insufficient evidence that citizens of seven Muslim-majority countries covered by Trump's travel ban, including Syria, pose a terror threat to the US.
A draft document that surfaced last week concluded that citizenship is an "unlikely indicator" of terrorism threats and that few people from the seven nations listed in the travel ban carried out attacks or were involved in terrorism-related activities since the 2011 start of Syria's civil war.
A Homeland Security official said at the time that the document is not a final comprehensive review of the government's intelligence.
The initial travel ban created confusion among refugees awaiting resettlement.
At the time, about 300 Syrian refugees had tickets to fly from Jordan to the US, Cicchella said.
"They were shocked; they were sad," she said.
Flights were rebooked a few days later, after the court suspension of the ban, and most have since reached the US, she said.
Overall, 673 Syrian refugees arrived in the US in the past month, according to a US refugee aid agency, citing US government statistics.
Several thousand others are in the pipeline, having been submitted to the US as candidates for resettlement after initial screenings by the refugee agency.
With shrinking US refugee quotas, their prospects are uncertain.
In 2017, the UN refugee agency hopes to resettle 76,800 refugees from the Middle East and North Africa and 169,000 globally, but the scope depends on the quotas being offered by host countries.
Jordan, a key US military ally in the fight against the Islamic State group and a major recipient of US aid, has refrained from criticizing Trump's immigration policies.
However, the kingdom views resettlement as one of the ways, along with international financial aid, to ease the disproportionately heavy refugee burden on regional host countries.
More than 650,000 Syrian refugees live in Jordan, close to 3 million in Turkey and more than 1 million in Lebanon. Schools, hospitals and state budgets, especially in Jordan and Lebanon, have been strained by the mass influx.
Jordanian government spokesman Mohammed al-Momani on Sunday said that the international community must do more to help Syrian refugees.
"If we don't do this, then we will have generations of lost refugees, uneducated refugees, abandoned refugees that will continue to create further problems to the host communities [in the region]," he said.
Comments will be moderated. Keep comments relevant to the article. Remarks containing abusive and obscene language, personal attacks of any kind or promotion will be removed and the user banned. Final decision will be at the discretion of the Taipei Times.