S Korean mom's death illustrates birth-rate challenge
Trying to raise the world's lowest birth rate is among the missions of the South Korean Ministry of Health and Welfare — a challenge starkly illustrated when one of its own working mothers died at her office.
The 34-year-old woman was an elite employee who had passed the highest category of the highly competitive civil service entrance exams.
A mother of three, she had only returned from maternity leave a week before her death last month, and immediately went back to working 12-hour days.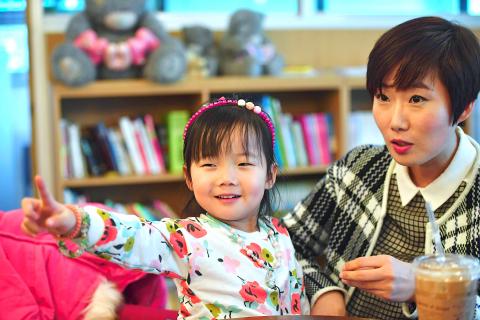 IT engineer Kim Yu-mi talks to her daughter on Feb. 13 during an interview at a cafe in Seongnam, South Korea.
Photo: AFP
She returned to the office on a Saturday. On the next Sunday, she was there again at five in the morning to finish early and take care of her children later in the day, according to her colleagues.
Instead she suffered a heart attack and they never saw her alive again.
Her death has prompted widespread soul-searching over the difficulties faced by overburdened and exhausted working mothers in a deeply workaholic and male-dominated society — which desperately needs to encourage more births.
South Korea's fertility rate has been declining for years and now stands at 1.2, the lowest in the world in the latest World Bank tally. The global average is 2.4.
Experts call it a "birth strike."
The civil servant who died has not been named, but Kim Yu-mi, a 37-year-old IT engineer with two young daughters, said she could "totally relate to her."
"It is exactly the reality for all working moms all across South Korea," she said.
She was one of the minority of South Koreans who took advantage of the legally available one year of parental leave, which is paid for by the government.
Since 2006, authorities have pumped more than 100 trillion won (US$88.43 billion) into hundreds of programs aimed at encouraging people to marry young and have larger families, but they have largely failed to arrest the trend.
Kim describes herself as "extremely lucky" for being allowed to go back to work.
"At least my employer did not kick me out when I asked for a maternity leave," she said. "In the past, female employees like me were simply told 'go home and never come back.'"
However, she said that when she returned to the office after her first maternity leave, she often worked past 9pm.
"Sitting with my child to play and eat dinner together was an unimaginable dream," she said.
Official statistics show that South Koreans work an average of 2,113 hours per year, the second-longest among Organisation for Economic Co-operation and Development member nations, where the mean average is 1,766. Mexico is No. 1.
In double-income families, men spend only 40 minutes per day on household chores or childcare compared with three hours for women.
The cutthroat corporate culture, and a deep-rooted patriarchy that sees women as the sole family caregiver, are pushing ever more women to shun marriage, said Lee Na-young, a sociology professor at Chung-Ang University in Seoul.
"South Korean women are expected to be modern career women at daytime and traditional housewives as soon as they go home in the evening... so why bother to get married?" Lee said. "In this environment, I wouldn't be surprised even if more South Korean working mothers are exhausted to death."
Comments will be moderated. Keep comments relevant to the article. Remarks containing abusive and obscene language, personal attacks of any kind or promotion will be removed and the user banned. Final decision will be at the discretion of the Taipei Times.