Kuwaitis bemoan 'too many foreigners'
Kuwait's first new government hospital in more than three decades is soon to open its doors — but only to Kuwaiti citizens.
It is the latest in a series of steps targeting foreigners, including laborers who build high-rise towers, sweep the roads and clean toilets in the tiny oil-rich emirate: a group that far outnumbers the native population.
The 304 million dinar (US$997 million) Jaber Hospital, about a 20-minute drive from downtown Kuwait City, is expected to open in the coming months. It will be the first government hospital built in Kuwait since 1984, taking some pressure off an overburdened health system.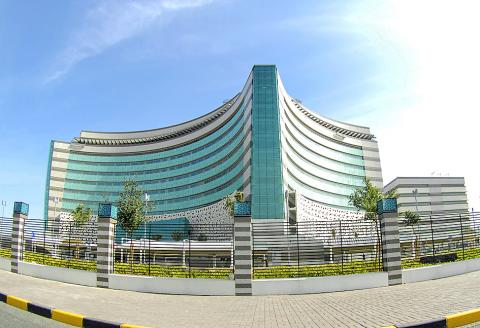 Jaber Hospital, about a 20-minute drive from Kuwait City, is pictured on Jan. 25.
Photo: AP
US ally Kuwait, like other oil-rich Persian Gulf states, has for decades offered free cradle-to-grave healthcare for its citizens, along with plenty of generous perks such as subsidized utility prices and housing grants, but services have been fraying in the past few years — despite the cushion of several hundred billion dollars that Kuwait has been building since the 1970s, mostly in a fund for future generations.
That money, which stays out of the state budget, is meant to provide for Kuwaitis when the oil runs out. It carried Kuwait through the expenses of the seven-month Iraqi occupation and the 1991 US-led Gulf War that liberated it.
Expatriates with residency and work visas in Kuwait get subsidized healthcare. A foreign laborer — usually from another Arab nation or an Asian migrant — would pay 1 Kuwaiti dinar, about US$3.20, to see a doctor at a public hospital. His employer would typically pay for him an annual health insurance to the government of 50 dinars, or about US$160.
Western expats who live and work in Kuwait tend to go to private hospitals as part of lucrative healthcare packages provided by their employers. Many see the new, citizens-only hospital as a step too far.
"They were granted their workers' visa. They deserve to be treated with dignity," Yousef al-Muhanna, a 34-year-old general surgeon, said of the migrant workers.
The discrimination goes against the Hippocratic Oath, he said.
"We are not supposed to look at their passports — we are supposed to deal with their medical conditions," he said.
The shift started sometime last year, when hospitals and clinics in Jahra, west of the capital, and the Amiri Hospital in Kuwait City began barring expatriates from morning visits for non-emergency services.
Lawmaker Safaa al-Hashem told reporters at Kuwait's parliament that "expats are crowding our hospitals and competing with us for the air we breathe in hospital waiting rooms."
She complained that many foreigners bring families on visitor visas to enjoy Kuwait's healthcare benefits, including deliveries of babies, gastric bypass surgeries, cancer treatment and other procedures.
"Isn't time for us to put an end to this? We must reform the current system; we must impose taxes on expatriates, not on Kuwaitis," she said.
It is not just healthcare. Kuwait's government and politicians have grown more wary of foreigners in other sectors as well, adopting or promoting a series of policies that target the roughly 3 million expats living and working in the nation.
Legislation in April last year increased the price of electricity and water in all residential buildings, but exempted Kuwaiti nationals.
Social media posts and tweets by Kuwaitis and even statements from officials blaming expats for everything — from traffic congestion to the raiding of open buffets by wedding crashers — are becoming all too common.
Earlier this month, when Egypt beat Burkina Faso in the first semi-final at the Africa Cup of Nations soccer tournament, the Kuwaiti Ministry of the Interior warned Egyptian expats — one of the largest Arab communities — against celebrating their team's win with car parades.
The traditional parades are a raucous event, with soccer fans driving around honking their cars, music blasting and flags waving from car windows.
The ministry said it would immediately deport anyone who takes part in "illegal parades" — so the Egyptians kept their partying off the streets.
"As an Arab expat, when you go to the West they call you a terrorist or refugee," said Egyptian architect Waleed Shalaan, who has been living in Kuwait since 1999 and considers it his home. "You go to the Gulf states, they call you a leech or a parasite."
Changes to the law require foreigners to have a minimum monthly salary of 400 Kuwaiti dinars and to spend two years in Kuwait before applying for a local driving license — with the exception of some professions such as doctors, journalists, university professors and engineers.
Housewives and students cannot drive and anyone caught driving without a license can be deported.
Only tourists and others on a visitor's visa can drive with an international license.
After al-Hashem's "air we breathe" comment, fellow lawmaker Abdulkareem al-Kandari called for a special session of parliament to discuss what he called the "alarming increase in the number of expats versus Kuwaiti nationals."
"We refuse to be a minority in our own country," he said,though Kuwaiti nationals already are, with foreigners making up about 70 percent of the population of 4.2 million.
Several lawmakers demanded the government deport 100,000 expats annually to balance the nation's demographics.
Without offering details, Kuwaiti Minister of Social Affairs Hind al-Sabeeh promised a plan to "balance the demographics of the country over the next five years, without disrupting the balance of work."
Hind Francis, an analyst at the Rai Institute think tank, said xenophobic sentiments have been on the rise in Kuwait as a way to deflect blame from the authorities.
"Many big problems that concern the public are blamed on the expatriates: congested roads, overcrowded hospitals, many areas in which public policy has failed," she said.
Sarah al-Qabandi, a 35-year-old corporate social responsibility manager at Ooredoo Telecom, said that blaming Kuwait's problems on the expats is a shame.
"We expect people abroad to treat us like royalty ... we want to be treated well and yet we don't welcome anyone in our own country," al-Qabandi said.
Comments will be moderated. Keep comments relevant to the article. Remarks containing abusive and obscene language, personal attacks of any kind or promotion will be removed and the user banned. Final decision will be at the discretion of the Taipei Times.