Mattis to NATO members: Boost military spending
US Secretary of Defense James Mattis on Wednesday told fellow NATO members to increase military spending by year's end or risk seeing Washington curtail its defense support.
Echoing US President Donald Trump's demands for NATO countries to assume greater self-defense responsibility, Mattis said Washington would "moderate its commitment" to the alliance if countries fail to fall in line.
"No longer can the American taxpayer carry a disproportionate share of the defense of Western values," Mattis told the alliance's 27 other defense ministers, according to a text of his remarks. "Americans cannot care more for your children's future security than you do."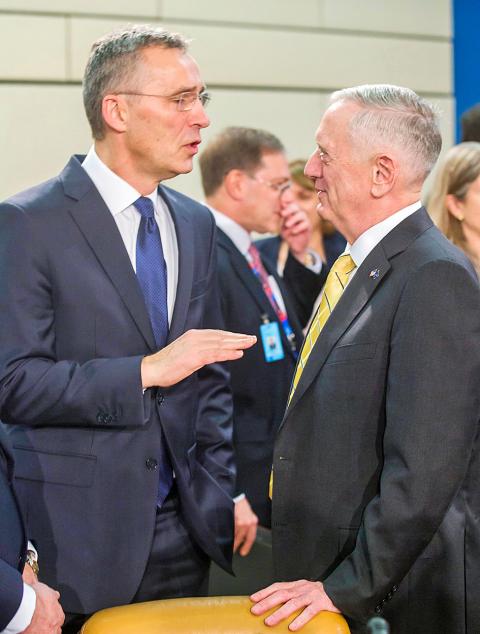 NATO Secretary-General Jens Stoltenberg, left, talks to US Secretary of Defense James Mattis on the second day of the NATO defense ministers' meeting at the alliance's headquarters in Brussels yesterday.
Photo: EPA
The entire alliance seemed to hang on Mattis' every word on Wednesday. Officials crowded around televisions at the NATO meeting in Brussels to watch the retired US general's initial appearance with NATO Secretary-General Jens Stoltenberg. Defense chiefs clustered around Mattis as he entered the meeting room.
Citing danger from Russia, Mattis told the closed meeting of ministers they must adopt a plan this year that sets dates for governments to meet a military funding goal of 2 percent of GDP.
Mattis called the funding increase a "fair demand" based on the "political reality" in Washington, an apparent reference to Trump's past criticism of NATO as "obsolete" and his much-touted "America first" motto.
Noting the threat posed by the Islamic State group in Iraq and Syria, Mattis said: "Some in this alliance have looked away in denial of what is happening."
"We have failed to fill gaps in our NATO response force or to adapt," he added.
Trump has challenged the alliance to take on a greater share of military costs, even rattling European nations by suggesting the US might not defend allies unwilling to fulfill their financial obligations as NATO members.
Mattis did not go that far, and Wednesday's focus appeared to be on simply increasing military funding if not fully reaching the target.
Many European governments face hostility to more military spending, especially as their slow economic recoveries force belt-tightening elsewhere.
The US is by far NATO's most powerful member, spending more on defense than all the others combined. It devoted 3.61 percent of GDP last year to military spending, according to NATO estimates — a level that has somewhat tapered off in recent years.
Germany, by contrast, spent 1.19 percent of its overall budget on defense. Ten countries commit even less, and seven — including Canada, Italy and Spain — would have to virtually double military spending to reach the target. Luxembourg would require a four-fold increase to get close.
Other countries that do reach NATO's benchmark for military spending are Britain, Estonia, Poland and Greece.
Comments will be moderated. Keep comments relevant to the article. Remarks containing abusive and obscene language, personal attacks of any kind or promotion will be removed and the user banned. Final decision will be at the discretion of the Taipei Times.