Mongolian herders face losses to 'dzud' weather
Thousands of Mongolian herders face disastrous livestock losses from dreaded severe weather known as the "dzud," the Red Cross said yesterday as it launched an international emergency aid appeal.
Landlocked Mongolia is grappling for the second straight year with losses from dzud conditions — a dry summer followed by bitter winter cold that leaves livestock and other animals at risk of starvation and exposure on the country's rugged steppes.
It threatens tens of thousands of herders in a country where almost half the population depends entirely on livestock for food, transportation and income, the International Federation of Red Cross and Red Crescent Societies (IFRC) said.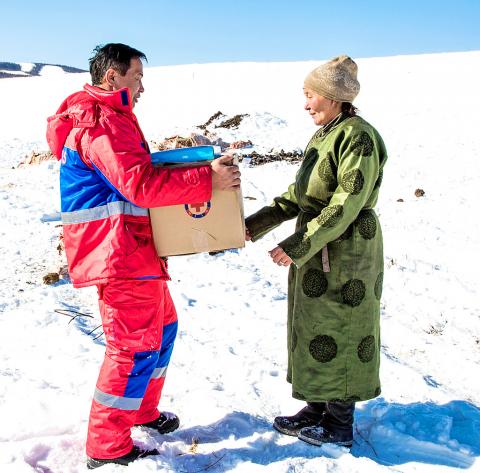 Herder Uranchimeg Terbish, right, accepts food and relief items from a Mongolian Red Cross worker in Khuvsgul Province, Mongolia, on Monday.
Photo: AFP
Cattle, sheep and other animals usually die en masse in the dzud, weakened by insufficient summer grazing that prevents them building up the fat reserves necessary to withstand winter temperatures, which can plummet as low as minus-50oC.
"In spring, animals give birth and when the livestock are already exhausted from the winter they are at high risk without adequate feed, shelter and veterinarian care, which does not exist in some remote areas of the country," Mongolian Red Cross secretary-general Nordov Bolormaa said.
As of early this month, more than 42,546 livestock animals had already perished in the current dzud, the statement said, citing official Mongolian figures.
"This figure is expected to grow exponentially in the months ahead, when a long harsh spring takes hold after the extremely cold winter," the Red Cross said.
It said that more than 157,000 people are "at risk" across 17 of Mongolia's 21 provinces.
Hundreds of thousands of livestock are reported to have died in the 2015-2016 dzud.
The Red Cross hopes to raise enough to assist 11,000 of the hardest-hit households, including provision of cash grants, first-aid kits and funds to help communities prepare for future dzuds.
During the winter of 2015-2016, many people sold off their live animals, causing a market oversupply that depressed prices and hurt many of the most vulnerable small herders, said Gwendolyn Pang of the IFRC in Beijing.
"Many will lose their livelihoods and will have no choice but to migrate to slum areas" outside the capital, Ulan Bator, or other urban centers, Pang said.
The dzud strikes Mongolia every few years. A 2009-2010 dzud brought the most severe winter in memory, leaving dead, frozen animal carcasses strewn across pastoral areas.
At least 8 million livestock animals died, according to official estimates.
Thousands of Mongolia households lead a nomadic existence as herders amid Mongolia's vast plains and mountains, and recurring dzud conditions are blamed for forcing many into a marginalized urban existence in Ulan Bator.
Comments will be moderated. Keep comments relevant to the article. Remarks containing abusive and obscene language, personal attacks of any kind or promotion will be removed and the user banned. Final decision will be at the discretion of the Taipei Times.